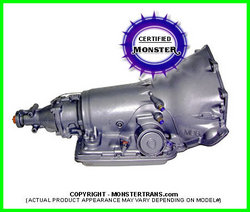 GM Automatic Overdrive Transmission Builder's and Swapper's Guide: 700-R4..
Atlanta (PRWEB) January 8, 2009
700R4 Monster Transmission Featured on SPEED Channel's Two Guys Garage TV Show.
This was a great episode for anyone wanting to learn about the 700R4 Transmission _title_ 700R4 Monster Transmission. Sam and Bryan wanted to give the Rat Rod some nice top end, awesome fuel economy and killer performance! Their answer, the 700R4 Automatic Transmission.
It is a 4-speed General Motors automatic transmission. Originally produced from 1982-1992 in practically every GM, Chevy and Pontiac vehicles. These transmissions are well known in the car business for having some weak points from the manufacturer, but the professionals over at Monster Transmission build these units with all the updates and upgrades imaginable.
Some of the upgraded 700R4 parts that Sam points out, are the Heavy Duty Sunshell Gear, Planetary sets, Billet Servo, Valvebody Kit and much more. Also, Monster Transmission specializes in 700R4 Conversions, which means they can supply you with a Turn-Key solution, that allows anyone wanting to swap out their old 2 or 3-speed and go to the overdrive.
The staff at Monster Transmission are so well respected in the industry for their knowledge of the 700R4, that they have also been selected to help write the new CarTech Book, titled "GM Automatic Overdrive Transmission Builder's and Swapper's Guide: 700-R4..", which is in major book stores nationwide!
To learn more about the 700R4, tune in to the SPEED Channel to watch, or simply visit the Monster Transmission _title_ Monster Transmission Website. You can also call toll free at 1-800-708-0087.
###