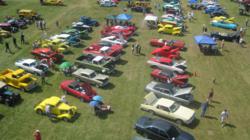 Monster Transmission Gives Back to their community.
Brooksville, FL (PRWEB) September 07, 2011
The Annual Monster Transmission Auto Show & Charity Event has selected a total of 5 non-profit organizations for their car show this year. They are Big Brothers Big Sisters, Feed America, New Beginnings Youth Shelter, S.A.F.E. (Saving Animals From Euthanasia), and the BTLS Foundation which benefits fallen soldiers and officers.
They are also having a canned food drive and offering the first 5,000 attendees that bring a bag of canned food a free event t-shirt.
It is an all day event starting at 9:00am and ends at 8:00pm with a monster-sized fireworks display. You can learn more by visiting their website at http://www.monstertransmissionautoshow.com
###