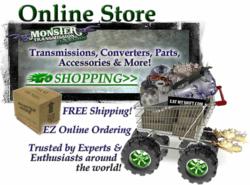 Facebook.com/eatmyshift
Brooksville, FL (PRWEB) September 20, 2011
Social Media is in full gear at Monster Transmissions. They have created a very cool and interactive Facebook page named after their catchy trademark "Eat My Shift".
Visitors that Like the page will gain access to all kinds of exclusive content. Coupons, Events, and much more!
They are one of the first companies in the transmission industry to create a social media page using Facebook and have quickly accumulated over 16,000 likes to date. On their page you can view videos about the company, pictures from past car events, and read current postings from past and current customers. It is a great way to interact with them, and it keeps everyone informed.
Another great feature about their page is it allows site visitors to subscribe to their Facebook only Newsletter, which provides special information. To learn more, check out their page at http://www.facebook.com/eatmyshift.
# # #