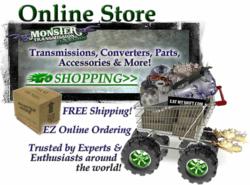 Brooksville, FL (PRWEB) September 21, 2011
When Hot Rod TV decided to build 3 high performance Camaros, you know they are going to be awesome. With the help of numerous part suppliers, these three beauties were transformed into what's known as the Triple Threat Camaros.
One of the most important parts of any vehicle is the drivetrain, more specifically, the transmission. And in this case, 3 transmissions which include torque converters and other parts. There was many different companies to choose from, but for this special build Monster Transmission was selected. They are well known in the industry for their extreme attention to detail and quality.
The guys at Monster supplied a mixture of 4L60E, 4L65E, and 4L80E transmissions and components. Each containing their own advantages for the different builds. A complete turn-key solution for the camaros were provided by them. Items such as the transmission, torque converter, transmission controllers, and much more.
A great show with some awesome parts. Have a look at the video clip attached or visit http://www.monstertrans.com
You can also contact Monster Transmission directly at 800-708-0087.
###