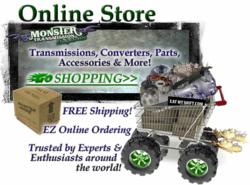 Monster Transmission makes performance affordable.
Brooksville, FL (PRWEB) September 08, 2011
Monster Transmission is proud to announce their new Layaway Program which offers consumers an easy way to pay for a replacement transmission. With the current economic state, layaway plans and other payment programs are a must. This is especially true with big ticket items like a transmission which can cost anywhere from $1,000-$4,000.
Many people are on a tight budget these days and that is exactly why Monster Transmission created their Layaway Program. Consumers can call or email for a custom payment plan that doesn't break the bank. To learn more about Monster's program you may contact them at 800-708-0087 or by visiting their website http://www.monstertrans.com
# # #