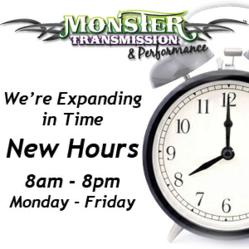 Monster Transmission's New Staff Hours are 8am-8pm EST, M-F
(PRWEB) March 16, 2012
Monster Transmission, the nation's ultimate drivetrain resource, has extended their customer service hours to better serve their customers. Their new hours are from 8 a.m.-8 p.m. EST Monday-Friday.
You can find Live support for transmission installation, drivetrain parts installation, troubleshooting and purchasing of remanufactured transmissions by giving them a call at 800-708-0087. As always you can shop on their website http://www.MonsterTransmission.com 24 hours a day and 7 days a week. They carry extensive powertrain products, such as Transmissions, Torque Converters, Transfer Cases, Flexplates and Much More! These new extended hours will truly allow Monster Transmission to live up to there slogan, "We Build More Than Transmissions, We Build Relationships". Extending the customer service hours will enable Monster Transmission to help more customers more quickly and completely.
Monster Transmission is located in sunny Brooksville, FL in the heart of Hernando County. Their address is 19370 Oliver St., Brooksville, FL 34601. They offer local transmission repair services to the surrounding Spring Hill and Brooksville areas. And you can visit their Transmission Shop to take a tour of their manufacturing facility.
About Monster Transmission:
Monster Transmission & Performance, a supplier of car parts and transmissions, focuses on providing a quality experience to customers across the globe. In operation since 2003, Monster Transmission has gained recognition for superb service and products, often receiving good reviews and testimonials from customers. Noted within the industry for its knowledgeable and experienced professionals, Monster Transmission has contributed to technical books, been featured in a variety of industry publications, and served as a supplier of parts for vehicles in television and film projects.
Showing their commitment to the community, Monster Transmission & Performance also hosts a monthly Charity Cruise-In at the local Brooksville Chick-fil-A. The Charity Cruise-In Event is the third Thursday of every month and attracts many people, including families and auto fans, and serves to benefit a different charity each month. In addition to hosting the Charity Cruise-In, Monster Transmission & Performance consistently donates time and resources to many other Charity's, Non-Profit's, and Churches.
You can contact Monster Transmission directly at 800-708-0087 or visit MonsterTransmission.com for more details.