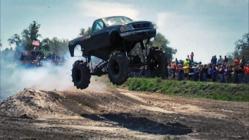 Monster Transmission is the SPEED Channel's preferred transmission company.
Spring Hill, FL (PRWEB) May 16, 2012
In the world of tractor tire mud trucks one of the most popular trucks anywhere in the country is, Spare Parts. Doug Stapleton aka Spare Parts Doug as he is known all around the world is the driver of a 1997, Chevy powered, Ford F-150. This mud truck runs a 518 cubic inch Big Block Chevy Engine and a completely custom Chevy TH400 SS Monster Transmission.
Over the last few years there have been some big changes in the mud truck world. There use to only be a handful of guys competing, now there are hundreds of trucks out there. These trucks use to just play in the mud now they hit multiple jumps in a row, run over cars, two trucks tug of war, and run at great lengths on two wheels. It's completely evolved into an amazing freestyle event running on 4' plus tall tractor tires. So much of the event is about getting big air and nailing the big jumps. In this world you need the best and strongest parts that are going to hold up to the abuse that these trucks are constantly put through. These mud trucks need the strongest drivetrain that they can get. The way these trucks are run is not normal and there is a lot of stress on the transmission. That's where the relationship with Monster Transmission comes in. There are always unique requests for these transmissions, but Monster Transmission understands the needs and is able to quickly fabricate those mods that are essential to them.
The leader in Off-Road Entertainment is, Trucks Gone Wild. Matt Steele a major promoter of Trucks Gone Wild, a Monster Jam Announcer, and also the co-host of TruckU TV has been a big part in the Monster Transmission and Spare Parts Doug relationship. With Spare Parts Doug running longer, faster, and harder it's going to draw in more spectators and give them one hell of a show! In turn this works out well for Trucks Gone Wild and it's fan base. Matt Steele in another way has also been a great asset to Monster Transmission in promoting them on the SPEED Channel's TruckU TV. Monster Transmission is the SPEED Channel's Preferred Transmission Company. That preference is only enhanced by the long standing friendship with Matt. "Great things are still to come from this relationship and we are all excited to see what the future holds for us" says Monster Transmission's President Achilles Thomas.
Monster Transmission re-manufactures transmissions for many driving applications. From Spare Part Doug's, tractor tire, mud truck pushing hundreds of horsepower all the way down to your factory daily driver. They've got all drivetrain needs covered. Look to Monster Transmission and Performance for Transmission's, Rebuild Kit's, Accessories, Crossmembers, Torque Converters, Transfer Cases, Driveshaft's, and much more.
For all powertrain needs check out MonsterTransmission.com. Also to save some cash visit Facebook.com/EatMyShift, give them a thumbs up and stay up to date with the many product sales and promos.