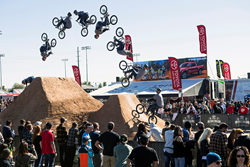 Winning this event is absolutely insane. This is the first real event I've ever won and to take it home against such a stacked group of talent that I grew up watching was incredible - Brian Fox
Aspen, Colorado (PRWEB) January 30, 2017
Monster Energy congratulates Monster Army rider Brian Fox on his upset victory at the second stop of the Toyota BMX Triple Challenge this weekend in Glendale, Arizona. Monster Energy's Kyle Baldock sealed second place and remains the overall point's leader, and Logan Martin took third.
The second stop of the new three-stop dirt series takes place during select Monster Energy Supercross events and is at the forefront of the progression in BMX. The two-jump, winner takes all format, aims to bring together the best BMX riders in the world with a points-based, open series for anyone to take part in and throw down.
Heavy wind delayed the event on Friday, so both the open qualifier and finals took place on Saturday, making it an incredible day of intense BMX riding. Kicking off at 8 am, 36 riders battled for the nine open spots in finals, and the level of riding only got higher as the day went on. At the end of the qualifier melee, the final lineup was a slew of similar faces except for one, Monster Army (Monster Energy's amateur program) rider, Fox who came into the event white-eyed, but poised to kill it. In the prelims, he threw down a double flip over the first set and a 720 on the second. But, in the finals, he had to step his game up. With three runs to lay it down, Fox dropped in and fell on a 1080 on both his first and second run. With just one run left, and last stops champion Baldock sitting at the top of the scoreboard, Fox dropped in and absolutely nailed a double flip on the first set and a 1080 on the second.
During the award ceremony Fox was overwhelmed. Not just with the win, but the support of his fellow peers with Baldock being the first to congratulate the up and comer. After the event, Fox was still a bit lost for words.
"Winning this event is absolutely insane," said Fox. This is the first real event I've ever won and to take it home against such a stacked group of talent that I grew up watching was incredible."
Baldock remains the point's leader going into the third and final stop, but it's far from clinched. He will need a strong finish in Atlanta and with kids like Brian Fox swinging hard it will be an exciting event.
The final event will take place in Atlanta, Georgia at Motofest on February 24-25. Check it out here: http://www.SupercrossLive.com. For more on Fox, Baldock, and the rest of the Monster Energy BMX team visit http://www.monsterenergy.com, and follow Monster Energy on Facebook and Instagram.
###
About Monster Energy:
Based in Corona, California, Monster Energy is the leading marketer and distributor of energy drinks and alternative beverages. Refusing to acknowledge the traditional, Monster Energy supports the scene and sport. Whether motocross, off-road, NASCAR, MMA, BMX, surf, snowboard, ski, skateboard, or the rock and roll lifestyle, Monster Energy is a brand that believes in authenticity and the core of what its sports, athletes and musicians represent. More than a drink, it's the way of life lived by athletes, sports, bands, believers and fans. See more about Monster Energy including all of its drinks at http://www.monsterenergy.com.
About Feld Entertainment:
Feld Entertainment is the worldwide leader in producing and presenting live touring family entertainment experiences that lift the human spirit and create indelible memories, with 30 million people in attendance at its shows each year. Feld Entertainment's productions have appeared in more than 75 countries and on six continents to date and include Ringling Bros. and Barnum & Bailey®, Monster Jam®, Monster Energy Supercross, AMSOIL Arenacross, Disney On Ice, Disney Live! and Marvel Universe LIVE! More information about Feld Entertainment is available online at http://www.feldentertainment.com.