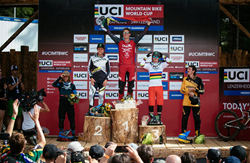 It was a tough day. I had two big crashes in both of my runs, but somehow I put my qualifier run together - Troy Brosnan
Lenzerheide, Switzerland (PRWEB) July 11, 2017
Monster Energy's Troy Brosnan takes second place at the MTB Downhill World Cup this past weekend in Lenzerheide, Switzerland. Brosnan was also joined on the podium by his teammate Danny Hart who took home the bronze medal.
Hot, dry conditions were the story all week as racers battled the massive clouds of dust and loose rock. Run after run, the track was a gamble as baby-head sized rocks moved in and out of lines. What was safe and fast one run might have disaster written all over it the next. The night before racing, a heavy thunderstorm storm moved through the valley, turning the wooded parts of the track slick and greasy. By the time the elite competitors dropped, the track had mostly dried out in the open, while some shaded areas held onto the moisture and drove speeds through the roof.
After a rough practice the day before, Brosnan was thrilled to be back on the podium for a second week in a row after winning the UCI MTB World Cup in Vallnord, Andorra.
"It was a tough day," said Brosnan. I had two big crashes in both of my runs, but somehow I put my qualifier run together. I had a little bit of a leg issue today, but that went away in my final. My run was decent and everything was fine except for that top rock garden where I went way off of my line and lost who knows how much time. I pushed as hard as I could from there down, but it just wasn't enough for the win."
Brosnan wasn't bothered by being on the unfortunate end of the .162-second difference to the eventual winner.
"It's probably about my turn to be on the other end of the .162 with Greg Minnaar. It's an amazing battle we've got going on this season, I'm stoked!"
Brosnan now moves into second in the overall standings just behind Minnaar, and the hunt continues with just two rounds remaining.
Hart struggled to find his rhythm on the track this week, but is happy to be making strides back into the mix after his second podium finish in a row after taking third at the UCI MTB World Cup in Vallnord, Andorra.
"My run was good," said Hart. "It started out well and only had one little moment near the bottom. I'm happy with how I rode; I just need to find that last little bit again. It's good to get on the podium again and hopefully in Mont Sainte Anne we can bring some hurt and take the win.
The track wasn't as bad today as it was the day before, and it was drier than what it was this morning, but it's a tough track to race. You never really get a good sensation. Last week you could tell from watching where you could brake and slow down where you wanted. Here it's hard; I never really got on with it all weekend so I'm really happy to come away with third – upwards and onwards."
The Downhill World cup will take a three-week mid-summer vacation and will reconvene in Mont Sainte Anne, Canada in three weeks. With two rounds to go, it's going be a close one all the way to the end.
For more on Brosnan, Hart, and the rest of the Monster Energy team visit monsterenergy.com, and make sure to follow Monster Energy's Facebook, Instagram & Twitter for exclusive updates.
###
About Monster Energy:
Based in Corona, California, Monster Energy is the leading marketer and distributor of energy drinks and alternative beverages. Refusing to acknowledge the traditional, Monster Energy supports the scene and sport. Whether motocross, off-road, NASCAR, MMA, BMX, surf, snowboard, ski, skateboard, or the rock and roll lifestyle, Monster Energy is a brand that believes in authenticity and the core of what its sports, athletes and musicians represent. More than a drink, it's the way of life lived by athletes, sports, bands, believers and fans. See more about Monster Energy including all of its drinks at http://www.monsterenergy.com.