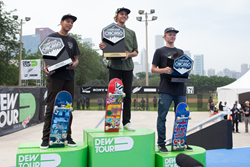 I am still in shock winning this contest, said Caples. "I really just wanted to make the podium and be with my friends and knew I had skate my best to do that. Curren Caples
Corona, California (PRWEB) June 22, 2015
Monster Energy's Curren Caples, Ventura, California, wins Dew Tour Chicago Skateboard Streetstyle event in downtown Chicago this past Saturday at the new Grant Park Skate Plaza. After a five-year hiatus the free event returns to Chicago to celebrate international Go Skate Day and Summer Solstice.
Having recently won a gold medal at the X Games Austin 2015 Skateboard Park event and just prior to that first place at the Hart Lines street skateboarding contest, Caples came through on his final run to take the top spot in Skateboard Streetstyle at Dew Tour Chicago with his signature effortless style, flow and speed marking his third consecutive banner win.
In his final run he was already locked in for a top three podium spot, but knew he had to skate his best to take first place and nailed it with a solid run taking the highest score at 92 points. The 19-year old's winning run included a shifty ollie to a huge tweaked backside air, kick flip up on to the top of the trailer, high-speed front nosegrind on the dumpster ledge, backsmith on the tall flat bar, Lein air to tail smack on the way back down, front feeble on the bump to high flat bar and finished with a noseblunt slide down the hubba rail.
"I am still in shock winning this contest, said Caples. "I really just wanted to make the podium and be with my friends and knew I had skate my best to do that."
For more on Caples visit Monster Energy at http://www.monsterenergy.com.
###
About Monster Energy:
Based in Corona, California, Monster Energy is the leading marketer and distributor of energy drinks and alternative beverages. Refusing to acknowledge the traditional, Monster Energy supports the scene and sport. Whether motocross, off-road, NASCAR, MMA, BMX, surf, snowboard, ski, skateboard, or the rock and roll lifestyle, Monster Energy is a brand that believes in authenticity and the core of what its sports, athletes and musicians represent. More than a drink, it's the way of life lived by athletes, sports, bands, believers and fans. See more about Monster Energy including all of its drinks at http://www.monsterenergy.com.