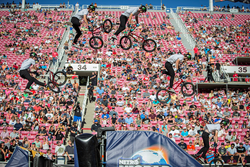 It's hard to explain, but when that happens it motivates me to work out of this corner that I'm in—it was my last run, so I put in all I had. I've had that run in my head for a few weeks and I am psyched I was able to put it down - Colton Walker
Salt Lake City, Utah (PRWEB) June 25, 2017
Monster Energy congratulates Monster Army riders Colton Walker and Brian Fox on their first and third-place wins in BMX Triple Hit at the second Nitro World Games at the Rice-Eccles Stadium in Salt Lake City, Utah. With live coverage on NBC during a single three-hour broadcast, Monster Energy's world-class athletes took a total of four trophies across tonight's FMX and BMX events.
A progression-focused trick fest, the Triple Hit is three jumps where the only option is doing the three hardest tricks in succession. With the best riders in the world next to him, Walker stepped up to the challenge to take the win with his very last run in this insane event and his second consecutive win.
Having won the inaugural event in 2016, Walker was the sole rider to be pre-qualified to finals in BMX Triple Hit. So while 15 riders battled it out in semi-finals, Walker just had to focus on his own goals in this two-run, best-run counts format. He came out swinging on his first run, but went down on the final jump on what is essentially his signature trick, a barspin tailwhip-to-tailwhip.
"That's exactly what happened last year, too. I fell on my first run, and I put it down on my second run," said Walker. "It's hard to explain, but when that happens it motivates me to work out of this corner that I'm in—it was my last run, so I put in all I had. I've had that run in my head for a few weeks and I am psyched I was able to put it down."
And that's exactly what Walker did on the very last run of the event: he laced a backflip barspin-to-tailwhip, a 360 double downside whip, and stomped the barspin tailwhip-to-tailwhip for the undeniable win.
Going down last year in practice, Fox had a lot weighing on him at Nitro World Games.
"Last year didn't work out so well," said Fox. "I ended up crashing in practice and this year I was able to come back and do the exact run that I wanted to do last year and it landed me in third—pretty insane. It's such a great feeling because that run has been on my mind every single day for a year straight."
Fox stomped a backflip barspin, 1080, and double flip for third place honors.
After the event, Walker was excited and already looking forward to next year's Nitro World Games.
"To win two years in a row is the best feeling ever, and I'm honored," said Walker. "This is one of my favorite ramps in the world to ride and I already can't wait for next year." But before that, Walker has X Games Minneapolis in mid-July to compete in.
For more on Colton Walker, Brian Fox, and the rest of the Monster Energy BMX team visit http://www.monsterenergy.com, and follow Monster Energy on Facebook and Instagram.
###
About Monster Energy
Based in Corona, California, Monster Energy is the leading marketer and distributor of energy drinks and alternative beverages. Refusing to acknowledge the traditional, Monster Energy supports the scene and sport. Whether motocross, off-road, NASCAR, MMA, BMX, surf, snowboard, ski, skateboard, or the rock and roll lifestyle, Monster Energy is a brand that believes in authenticity and the core of what its sports, athletes and musicians represent. More than a drink, it's the way of life lived by athletes, sports, bands, believers and fans. See more about Monster Energy including all of its drinks at http://www.monsterenergy.com.