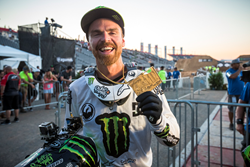 Bilko is a great competitor, and every time we line up we have a great time and a great battle. -Nate Adams
Austin, Texas (PRWEB) June 07, 2015
The Monster Energy team has taken the top two spots in Moto X Speed & Style at X Games Austin 2015 with Nate Adams taking gold and teammate Blake "Bilko Williams finishing behind him with the silver medal. Today marks Adams' third gold medal in Moto X Speed & Style and an impressive 20 X Games medals overall. Williams is also no stranger to the X podium. This is the Australian's sixth X Games medal and third silver medal in Moto X Speed & Style.
Moto X Speed & Style is, simply put, about both speed and style. In head-to-head matchups, the winner of the two-lap races in terms of speed get 50 points, and the second person to cross the finish line gets 50 points minus the time they are behind the leader. So, if you finish a half a second behind, the leader at the finish gets 50 points, and you get 49.5. Then, this score is combined with a trick score that's also judged on a score of 1 to 50, and the highest combined score wins.
The finals for Speed & Style features eight competitors in a single-elimination competition, and it was looking possible for a medal sweep in Speed & Style since three of the final four competitors were Monster Energy athletes, but Mike Mason ended up taking the bronze by a half-point over Monster Energy's Adam Jones.
The Gold-medal race was set to be a tight one as Adams grabbed the holeshot, but Williams had no intentions of getting a third silver and was hungry for gold. He fought his way by before the first trick ramp, forcing Adams to check up. Still, Adams stuck with his proven tricks, and then tried to fight his way back by the wily Australian.
In the nail-biting final against Adams and Williams just after the start of the second and final lap, Adams pushed Williams wide before the whoops, and then Williams sold out going for the inside in the following turn to take the lead back and lost the front end leaving him on the dirt and securing the gold for Adams.
"I don't know how we didn't hit on our first time over the ramp," said Adam – speaking of Williams' pass heading into the first trick ramp that forced Adams to check up. "But Bilko's just a great competitor, and every time we line up we have a great time and a great battle. I don't know how I won it, I just got a little lucky, I guess, but I gave 100 percent and thank the Lord, first and foremost to be able to come out here and represent for all of my sponsors and family."
For more on Monster Energy X Games Austin 2015 competing athletes including exclusive photos and daily recaps, check out http://www.monsterenergy.com, http://www.monsterenergy.com/facebook/ and #unleashedatx.
About Monster Energy:
Based in Corona, California, Monster Energy is the leading marketer and distributor of energy drinks and alternative beverages. Refusing to acknowledge the traditional, Monster Energy supports the scene and sport. Whether motocross, off-road, NASCAR, MMA, BMX, surf, snowboard, ski, skateboard, or the rock and roll lifestyle, Monster Energy is a brand that believes in authenticity and the core of what its sports, athletes and musicians represent. More than a drink, it's the way of life lived by athletes, sports, bands, believers and fans. See more about Monster Energy including all of its drinks at http://www.monsterenergy.com.