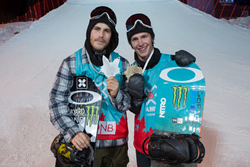 I'm just trying to realize what is happening! When you dream about something since you were 12 years old and it finally happens it's kind of surreal - Sven Thorgren
HAFJELL, Norway (PRWEB) March 11, 2017
Monster Energy congratulates Sven Thorgren and Ståle Sandbech who took the two top spots in Snowboard Slopestyle at X Games Norway. This is the first X Games Gold for Thorgren, who on his final run took the victory from Sandbech who held the lead the entire competition.
As the Arctic Sun set on the slopes of Hafjell Ski Resort outside of Lillehammer, Norway, the best snowboarders on the planet took to a Slopestyle course, which demanded a level of adaptation unseen all season. With jumps a bit smaller than usual and a mellowed pitch to the slope, riders had to adjust their runs accordingly.
As just the second rider of the competition to drop, Norwegian Sandbech came at the course as inventive and stylish as ever. Putting together perhaps the cleanest run of his entire season, Sandbech wowed his fellow countrymen and women with a backside 180 to cab 360 off the first rail before spinning a 270 on to 450 off the tall flat rail to get his run going. From there the 23-year-old went to work on the jump line spinning a cab 1260 stalefish straight into a frontside 1440. Opting for the rocket rail he then buttered a boardslide to 630 off sending him into the final jump where he stomped a backside 1260.
It was a run that set the bar for the rest of the competition and as rider after rider failed to top his score of 86.66 with most failing to even put together a run, it appeared as if he was on his way to victory. Eventually it all came down to the last rider of the competition, Sweden's Sven Thorgren.
With the heat on, Thorgren recalled later, "That was definitely the most pressure situation I've been in. And what I did was just think about my run, not about what place I would get."
It was a strategy that worked as Thorgren flowed through the course with tricks like a cab 180 to frontside 360 out and cab 270 to 270 off the upper rails. It was on the jumps however where Thorgren went to work, first chucking a frontside double cork 1080 with a double grab setting himself up for a backside 1440 stalefish. Choosing a double backside rodeo 900 on the second to last jump Thorgren then wound up for a cab 1260 flat spin with a roast beef grab.
After a longer than usual deliberation judges awarded him a 92.66, enough to steal the lead from Sandbech.
Clearly in shock Thorgren said, "Dude, I'm just trying to realize what is happening! When you dream about something since you were 12 years old and it finally happens it's kind of surreal."
Though it was the last competition of the season, it proved pivotal for both riders as Thorgren, whose trick selection often differs from the rest of the riders putting more emphasis on inventiveness than multiple corks, earned his first X Games Gold. For Sandbech, who had a succession of knee surgeries last year it was his first podium of the season, signaling a return to form for the stylish Norwegian.
Offering thanks to the crowd Sandbech summed it up saying, "It's great to be here with my people, my Viking people," before joking, "And my boy Sven, my little brother from Sweden taking me out at the last minute! Dammit! It's great though -- I love it!"
ESPN and TV2 will each distribute 13.5 hours of live coverage. TV2 will air the competitions live in Norway, while ESPN's coverage will be distributed live in the U.S. on ESPN3 and as part of its World of X Games series on ABC. In addition to the content on ESPN's U.S. media platforms, X Games Norway 2017 will be televised globally on ESPN International networks and distributed to other international media outlets and broadcasters via ESPN's media distribution business.
To score all the exclusive updates from X Games Norway 2017 including photos and contest results as they happen visit http://www.monsterenergy.com. Follow Monster Energy on YouTube, Facebook, Instagram & Twitter.
###
About Monster Energy
Based in Corona, California, Monster Energy is the leading marketer and distributor of energy drinks and alternative beverages. Refusing to acknowledge the traditional, Monster Energy supports the scene and sport. Whether motocross, off-road, NASCAR, MMA, BMX, surf, snowboard, ski, skateboard, or the rock and roll lifestyle, Monster Energy is a brand that believes in authenticity and the core of what its sports, athletes and musicians represent. More than a drink, it's the way of life lived by athletes, sports, bands, believers and fans. See more about Monster Energy including all of its drinks at http://www.monsterenergy.com.