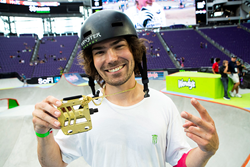 I've been trying the 900 tailwhip for over a year now and never pulled it. Today it just seemed that maybe Dave Mirra's spirit was around me, so I got it on my second-to-last attempt. I feel amazing and I'm just happy to be here at X Games in Minneapolis. Mike Varga
MINNEAPOLIS (PRWEB) August 05, 2019
This year's summer X Games just ended with a bang! Monster Energy congratulates Mike Varga on taking gold in Dave Mirra's BMX Park Best Trick at X Games Minneapolis 2019 inside U.S. Bank Stadium on Sunday. In a progression-driven jam session featuring the world's most gifted BMX freestyle riders, the 22-year-old from Oshawa, Canada, took home the win – and his first career X Games medal – with a never-been-done BMX trick. His teammate, 24-year-old Kevin Peraza from Tucson, Arizona, earned a strong third place finish in the gold medal-only event.
Supported by Monster Energy as the official drink sponsor for the sixth consecutive year, Summer X Games is the pinnacle of progression in modern-day freestyle BMX. After showcasing next-level riding skills in BMX Vert, Dirt, Street, and Park events all weekend, X Games saved the best for last: On the final day of X Games Minneapolis 2019, eight top BMX riders took on the concrete bowl course in Dave Mirra's BMX Park Best Trick.
Named in memory of BMX trailblazer and 14-time X Games gold medalist Dave Mirra, the best trick BMX event has become an X Games staple since its introduction at X Games Austin 2016. Contested as a 20-minute jam session, Sunday's BMX Park Best Trick competition gave riders a free choice of putting down high-scoring tricks anywhere in the park – as long as they're big and never-seen-before stunts!
Coming into the contest looking for his first-ever X Games medal, rookie pro Varga had his eyes on just the right spot to make his mark in the park: A transfer from the vertical quarterpipe section into the adjacent bank. This was where Mike Varga commenced to put on a showcase in variations of the 900 aerial, spinning two-and-a-half full rotations through the air.
Starting off by pulling a high-flying 900 into the bank, Varga upped the ante with an ultra-technical 900 tailwhip, spinning the entire bike by the handlebar in mid-air. After coming close on his first attempts, Varga decided to send it and landed the never-been-done BMX trick as the crowd erupted with cheers. When he came back on his final attempt to raise the bar even higher by ways of a 900 barspin – this time spinning the handlebar in mid-air – the judges had found their winner.
"I've been trying the 900 tailwhip for over a year now and never pulled it, said Varga. Today it just seemed that maybe Dave Mirra's spirit was around me, so I got it on my second-to-last attempt. I feel amazing and I'm just happy to be here at X Games in Minneapolis!"
This weekend marked Mike Varga's fourth appearance at X Games. The rookie pro who lives north of Lake Ontario had to undergo two surgeries since competing at X Games Minneapolis 2018, but had been training on his backyard BMX compound. Having finished in second place at the March 2019 Night Harvest in South Africa, Varga is considered one of the sport's rising stars – and he now owns the X Games medal to prove it.
Also coming through with highly progressive moves, Monster Energy's Kevin Peraza pulled a tech combo featuring double bar spin 180 onto the sub-box to Half Cab tailwhip into the bowl for a strong third-place finish. Peraza also came close to landing a never-been-done flair tailwhip over the spine ramp, but could not rein it in before the buzzer.
Download photos for editorial use.
ESPN and ABC will televise a combined 18 hours of live X Games Minneapolis 2019 coverage. Eight-and-a-half additional hours of event coverage will be streamed live on the X Games Facebook, YouTube and Twitter pages to fans in the United States. X Games Minneapolis coverage will also be accessible via the ESPN App to viewers who receive their video subscription from an affiliated provider.
Following X Games Minneapolis 2019, ABC will show four hours of programming on Saturday, August 10, as part of the World of X Games series as well as a one-hour Best of Show featuring athletic and musical highlights on Saturday, August 17.
Don't miss out on the action in the Twin Cities. Score all the exclusive updates from X Games Minneapolis 2019 including photos and contest results as they happen visit http://www.monsterenergy.com. Follow Monster Energy on YouTube, Facebook, Instagram & Twitter and watch the official Monster Energy hashtag #unleashedatx on social media.
About Monster Energy
Based in Corona, California, Monster Energy is the leading marketer and distributor of energy drinks and alternative beverages. Refusing to acknowledge the traditional, Monster Energy supports the scene and sport. Whether motocross, off-road, NASCAR, MMA, BMX, surf, snowboard, ski, skateboard, or the rock and roll lifestyle, Monster Energy is a brand that believes in authenticity and the core of what its sports, athletes and musicians represent. More than a drink, it's the way of life lived by athletes, sports, bands, believers and fans. See more about Monster Energy including all of its drinks at http://www.monsterenergy.com.