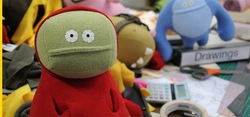 As a socially conscious business, the Monster Factory has chosen to work with Mokugift for its first official environmental initiative
Toronto, Canada (Vocus) April 16, 2010
Climate change is the real monster facing our world today. Creative solutions will be the key to changing the tides of the biggest fight of humanity. To celebrate Earth Day, plush monster creator, the Monster Factory will plant one tree via Mokugift for every monster sold online between April 17th and 23rd.
"As a socially conscious business, the Monster Factory has chosen to work with Mokugift for its first official environmental initiative," explained Bliss Man, co-founder of the Monster Factory "Mokugift helps us send a message to our customers that we want to make a difference and that they can too."
The individuals who make up the Monster Factory do their best to help the environment by recycling, composting, and making conscious choices about what food they eat, and biking, walking, or taking transit to work. Each member does a little every day to be more eco-friendly.
Mokugift created the 1,000 Ways To Plant A Tree campaign to showcase innovative companies, like the Monster Factory, that invent news ways to plant trees as a gift for customers. The goal is of the campaign is to plant 100,000 trees by July 29th 2010.
Mokugift trees are planted by farmers practicing environmentally sustainable forestry and agricultural methods in tropical zones in Central America, Africa and Asia. The plantings not only restock, with native trees, existing forests that have been depleted, but also contribute to more diverse, productive and economically sustainable land-use systems.
An official partner of UNEP, Mokugift not only empowers corporations and individuals to participate in the Billion Tree Campaign, it also provides the tools to inspire others to participate. Tree planting is an easy first step towards more environmentally responsible choices, and Mokugift enables every company and individual concerned about climate change to make a difference and inspire others to do likewise.
About Monster Factory
The Monster Factory is a character toy brand based in the Toronto, Canada. Since 2003 the team has been designing and creating engaging plush monster characters who live in a bizarre, yet strangely familiar world. Their efforts have produced countless monster characters who, despite their appearances, are just like you and me.
For more information about the Monster Factory, please visit http://www.monsterfactory.net
About UNEP's Billion Tree Campaign
Launched in November 2006 by the United Nations Environment Programme (UNEP), with the objective of encouraging the planting of at least one billion trees worldwide each year, Plant for the Planet: The Billion Tree Campaign is now recognized as one of the UN's most successful environmental campaigns. Now in its second stage, the campaign, which stresses the power of partnerships, has set a new goal of seven billion trees planted —roughly one tree for every living person on the planet. Every tree counts, and UNEP counts every tree.
For more information on the UNEP's billion tree campaign, please visit http://www.unep.org/billiontreecampaign/
About Mokugift
A social venture focused on customer experience and tangible, positive benefit to the environment and society, Mokugift makes it easy and rewarding to plant trees, for $1 apiece, through online "gifting". Giving a Mokugift tree is similar to sending an e-card, and recipients can proudly display their trees online at Facebook, MySpace, Yahoo!, and 50 other popular Web sites.
An official partner of the United Nations Environment Programme's Billion Tree Campaign, Mokugift collaborates with award-winning nonprofit agroforestry organizations such as Trees For The Future and Sustainable Harvest International to plant trees in twelve countries: Belize, Honduras, Nicaragua, Panama, Cameroon, Ethiopia, Burundi, Senegal, Zambia, India, the Philippines and Haiti. Using environmentally sustainable methods, farmers in these countries plant Mokugift trees to restock existing forests and enable more diverse, productive and economically sustainable land-use systems.
For more information on Mokugift, please visit http://www.Mokugift.com
# # #