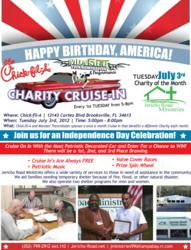 The focus of the event is on the Charity
Brooksville, FL (PRWEB) July 21, 2012
On the first Tuesday of every month Monster Transmission hosts a Charity car show at Chick-fil-A in their hometown of Brooksville, FL. The focus of the event is on a designated Charity that is booked for that month. Every Charity Car Show has been very successful both monetarily and in raising awareness for the Charities. During the show there are raffles, a silent auction, items for sale, and other various games where all proceeds from them are given back to the Charity. Also to top that off Chick-fil-A donates a portion of their sales from the event to the Charity as well.
At each show they have a large variety of vehicles on display. From fully restored, classics, hot-rods, to foreigns, rat rods, and high-performance cars and trucks. The event also hosts a live DJ who brings amazing entertainment and music to an already amazing community event. One of the shows highlight is the valve cover races. This is such a great time for the kids as well as many adults that get involved. It is truly a part of the event that many look forward to.
Jericho Road Ministries with love responds to the economic, emotional and spiritual needs of people. They offer temporary shelter, drug or alcohol rehabilitation and Christian spiritual development. Their ministry shelter provides short-term housing, daily meals and clean clothes. Accountability groups will offer support and guidance. Spiritual education will promote faith in Jesus Christ as the true source of stability in a changing world. Chapel services, recreation, chores, literacy and Bible classes is all an integral part of their ministry. The Charity Cruise-In are such great events and bring much needed awareness to the community about who they are and what they do.
Being able to Pay it Forward, give back, and have fun at the same time is something that Monster Transmission and Chick-fil-A look forward to each month. The car show's are great opportunities to network with the community neighbors and learn more about the Charities and resources that are available to them. There are so many charities within our communities that are here for us, and it's truly a great to see Monster Transmission Paying it Forward in a fun and creative way.
Check out Monster Transmission's Facebook page and give them a like. They've always got something going on each month. Or if you're ever in the Brooksville, FL area be sure to look them up and stop by for a tour of the facility. You will be amazed at the cleanliness, and what it takes to build a Monster Transmission. For more information on Monster Transmission events, please contact Nancy Holley, Nancy(at)MonsterTrans(dot)com or call 800-708-0087 x4491.
For more information about donating or volunteering with Jericho Road Ministries, visit http://www.Jericho-Road.net