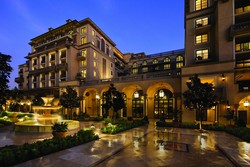 "It's one thing to build a green building, it's a whole different focus to operate one," explained Director of Sustainability, Mark Slymen.
Beverly Hills, CA (PRWEB) April 6, 2010
Montage Beverly Hills opened its doors in November 2008, and was immediately recognized as the first Gold LEED certified hotel in Southern California and just the fourth hotel to have achieved this recognition in the world. Now, having recently celebrated its one-year anniversary, the Forbes Five Star hotel continues to meet, exceed and develop environmentally-friendly standards.
The relentless commitment found within Montage Hotels & Resorts toward sustainability initiatives is spearheaded by an internal Environmental Impact Committee. The primary focus of this group of associates is on waste management, environmentally preferred purchasing, alternative transportation education and incentives for associates, energy efficiency and outreach through education and special projects.
From this committee, one of the initiatives introduced at Montage Beverly Hills is to pre-sort 100 percent of plastic, paper and glass waste from selected areas, and to work closely with the contracted waste disposal company to sort all remaining waste leaving the property. This has resulted in over 75 percent of waste being diverted from landfills. The property also works with Valley Crest, a premier Landscape Management and Construction company, on an integrated pest management and landscape policy. Since opening, this organic approach to landscape management has used zero fungicides pesticides, and only the required amounts of fertilizer for the gardens on property while maintaining its pristine condition. In addition, all landscape is maintained with 100 percent electric lawnmowers and all greenswaste is sent to composting facilities.
Montage Beverly Hills aims to effectively communicate and build passion for the sustainable mission and vision of the company at all employee levels through ongoing seminars, presentations and education. Associates operate with a Comprehensive Waste Management program, Paper Reduction program and Green Housekeeping program just to name a few, as part of their efforts. "It's one thing to build a green building, it's a whole different focus to operate one," explained Director of Sustainability, Mark Slymen. "It takes dedication and a hands-on approach to ensure proper implementation and follow through on the commitments made through construction."
Montage Beverly Hills, as with all future properties owned and operated by Montage Hotels & Resorts, will continue to be designed, constructed and operated with the same commitment to sustainable principles, a commitment that is passionately embraced by all of the company's associates and executive team.
About Montage Beverly Hills
Awarded Forbes Five Star in groundbreaking time, Montage Beverly Hills features 201 well-appointed guestrooms, including 55 suites, paying tribute to both old-style Hollywood and modern day luxury. The exterior, designed in the Spanish Colonial Revival style complements the rich history and tradition of Southern California's most celebrated neighborhood. Located steps from Rodeo Drive, in the heart of the Golden Triangle, guests and residents find convenient access to luxurious retailers and exquisite dining. Through every facet, Montage Beverly Hills embodies the essence of Hollywood's Golden Age. With our commitment to sustainability, Montage Beverly Hills was the first hotel and residences to receive Gold LEED certification in Southern California. For information and reservations, please contact Montage Beverly Hills at 310-860-7800 or visit the Web site, http://www.montagebeverlyhills.com.
About Montage Hotels & Resorts
Montage Hotels & Resorts is a hotel and resort management company founded in 2002 by Alan Fuerstman. Designed to serve affluent travelers and homeowners, the company features an artistic collection of distinctive hotels, resorts and residences in stunning settings that offer comfortable elegance, a unique sense of place and spirit, impeccable hospitality and memorable culinary, spa and lifestyle experiences. Montage Laguna Beach, the company's flagship oceanfront resort, opened in the vibrant arts community of Laguna Beach, California, in 2003. Montage Beverly Hills, the company's second hotel, opened in Beverly Hills in 2008 and was the first Gold LEED certified hotel and residences in Southern California. The newest property under development is Montage Deer Valley® in Park City, Utah, scheduled to open in 2010. http://www.montagehotels.com.
# # #