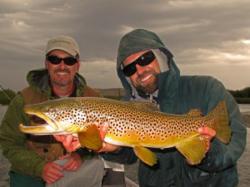 This has been one of the best years most of us can remember for late season Montana fishing.
Bozeman, Montana (PRWEB) September 21, 2011
The Montana fly fishing industry is enjoying outstanding late season conditions on the many blue ribbon rivers across the state. Montana and many other western states received bountiful moisture in the winter of 2010-2011. Eastern Montana experienced extensive spring flooding and many anglers were dismayed when their favorite blue ribbon trout streams were too high to fish in the early summer. Some large rivers like the Yellowstone did not clear until late July. The high waters of spring and early summer have since receded to produce healthy water flows ideal for fishing. According to Montana Angler Fly Fishing (http://www.montanaangler.com) outfitter Brian McGeehan, big water years can make it tough in the early summer months, but when the rivers finally shape up they produce amazing fishing. The high flows also improve the health of the rivers and the trout in them.
"This has been one of the best years most of us can remember for late season Montana fishing. Normally water levels are very low in August and September and the fish move away from the banks. On normal years some stretches of lower rivers produce marginal fishing, but with the great late season flows they have been outstanding, Elevated water levels have also kept the trout along the banks in the undercuts where they can intercept grasshoppers. On low water years the big fish move out into the middle and are harder to hook on large dry flies. Most anglers really prefer the surface fishing in the late season and this has been one of the best years for big attractor dry fly fishing that any of us can remember. We have also been able to spend a lot more time fishing the lower reaches of big rivers like the Madison, Jefferson, and Yellowstone. The higher flows help to keep the water cool and the fishing on the lower portions of big rivers stays good well into the late summer months which helps to spread out anglers."
"The high flows help to scour out the silt out of the gravel. Trout spawn in the cleaned gravel so big water years improve recruitment of future generations," stated Bozeman fishing guide Miles McGeehan. "The big flows can also provide a feeding bonanza on lower gradient rivers like the Missouri and Lower Madison where high flows flush out crayfish and other macro-invertebrates. I've hooked lots of trout in heavy water that were completely engorged with crayfish when the river levels were up. Those fish definitely pack on some weight during run off. We expect the rest of the 2011 season to be truly outstanding."
###