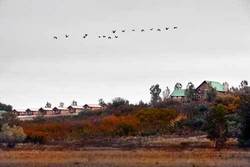 "Forrester's is certainly one of the premier fishing lodges in Montana and we are excited to have a first class lodge partner on the Bighorn"
Bozeman, MT (PRWEB) February 16, 2011
Montana Angler Fly Fishing recently announced a partnership with Forrester's Bighorn River Resort near Fort Smith, Montana. Montana Angler offers fishing packages with several Montana fly fishing lodges on the states top rivers. "Forrester's is certainly one of the premier fishing lodges in Montana and we are excited to have a first class lodge partner on the Bighorn," stated Montana fly fishing guide Brian McGeehan.
Forrester's is located on the upper three miles of the Bighorn tail water section just below Yellowtail dam. "Fishing below the dam is really amazing, there are over 7,500 trout per mile in this stretch and it offers some of the highest trout concentrations of any river in the world. Forrester's has the best location of any lodge on the river and the wade fishing below the lodge in the evenings can be awesome for guests that want a few more casts after a day float in a drift boat."
Forrester's was recently recognized as the Orvis 2010 fishing lodge of the year based on the high praise received from their many satisfied guests. The hand crafted main lodge sits high above the river with outstanding views of the river and surrounding country. Log sleeping cabins equipped with private baths and porches overlook Bighorn river. The main lodge houses an elegant dining area, pro shop, sitting area and cigar loft. Nancy Forrester prepares gourmet meals each evening in the well equipped kitchen. In addition to serving as a great base for blue ribbon trout fishing, Forrester's also offers popular cast and blast trips in the fall when ducks and geese fill the skies. Pheasant hunting in the vast fields along the river can also be outstanding.
The Bighorn River is located in Southern Montana about 70 miles Southwest of Billings. The large river flows cool and clear year round due to the presence of the Yellowtail Dam which releases water from the bottom of Bighorn Lake. According to McGeehan "the tail water effect caused by the dam results in an astounding amount of trout food in the Bighorn. The bottom of the river is literally covered with midge larva, mayfly nymphs, sow bugs, shrimp and aquatic worms. Trout grow at an amazing rate due to the food supply and the number of trout over 18" caught is staggering." Because the Bighorn is below a dam it does not get dirty from melting snow in May and June when other rivers in the Rockies are not fishing well. The Bighorn is also a popular Montana fly fishing destination in early spring when the water temperatures are elevated from the dam release and intense midge hatches produce pods of rising trout.
# # #