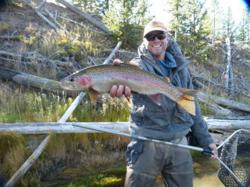 Late April and early May is great time to fish Montana.
Bozeman, MT (PRWEB) April 28, 2013
Early spring insect hatches are providing a kick start to the Montana fishing season. Guides at Montana Angler Fly Fishing are reporting a lot of activity on rivers across Southwest Montana as aquatic insects such as blue winged olive and March brown mayflies have been emerging from the aquatic nymph stage into full adults. "On several of our recent fly fishing trips in the area, we have seen strong emergences of the small baetis, or blue winged olive, mayfly," stated outfitter Brian McGeehan. " These mayflies are smaller than a dime but they can occur in great abundance. The water and air temperatures are often still cool this time of year which requires to spend several seconds floating on the surface of the water while their wings dry. They are very vulnerable at this time and the trout readily feed on them at the surface which provides for a pretty exciting scenario for anglers."
Spring is still a time for cooler weather in the Rockies and most of the rivers are still at lower levels with the snow still waiting to melt in the high country. The lower flows combined with multiple species of aquatic insects hatching on a daily basis can provide ideal conditions for fly fishers. "Late April and early May is great time to fish Montana," mentions guide Matt Morris. "The weather can be a wild card but when you hit it just right you can have fresh, hungry trout aggressively feeding with very few, if any, other fisherman around. On my trip the other day we saw hundreds of rising trout and not a single other angler. The spring hatches should continue for a few weeks as the temperature continues to rise until the snowmelt finally raises some rivers to high levels."
According to McGeehan, "anglers targeting the spring hatches need be ready for a wide range of weather conditions. It can go from hot and sunny to cold and snowy within a few minutes on some days. The conditions really very a lot by the day and the weather can trigger the insects to hatch or keep them at bay. The fishing can range from decent to epic depending on water flows, temperatures, wind and cloud cover. There is always the chance you will get blow off with windy and blustery weather but the upside is really high and if you catch it just right the fishing is often the best of the entire season." Sometimes you can also get a nice deal at some Montana fishing lodges that may offer spring discounts.
Montana Angler Fly Fishing (http://www.montanaangler.com) specializes in designing custom fishing packages on multiple river systems around Southwest Montana.