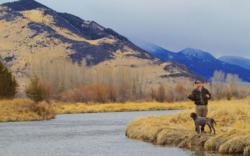 "We have been really impressed with the restoration work that Beartooth Capital has done on several of the fisheries on their ranches in Montana."
Bozeman, MT (PRWEB) May 24, 2013
Montana Angler Fly Fishing has recently partnered with Bozeman, Montana based Beartooth Capital Partners to collaborate on fly fishing trips and recreational packages on properties owned and managed by the investment group. Beartooth Capital has completed restoration projects on several of the fisheries on its ranches in Montana. The improvements often involve restoring stream channels to a natural meandering course which helps improve trout habitat and spawning conditions. The restoration efforts often dramatically increase the populations of wild trout on the ranch waters and add value to the properties and the surrounding ecosystem.
"We have been really impressed with the restoration work that Beartooth Capital has done on several of the fisheries on their ranches in Montana." states Montana Angler Fly Fishing outfitter Brian McGeehan. "The before and after photos are often very dramatic. Some of these streams were channelized and provided very poor habitat. After the streams were returned to a more natural river bed they really blossomed into world class trout fisheries. We are looking forward to showcase these high quality trout waters to our guests and help get the word out about how good land stewardship can produce dramatic results on our local fisheries. These efforts can benefit the larger rivers in the area since they increase the spawning habitat that the big river fish need. We also appreciate that Beartooth Capital will be managing how often each stream is fished so that the trout are rested regularly to keep them in prime shape and behaving like wild trout should. This seems like a natural win-win for both of us. Our guests have the opportunity to enjoy some very unique and lightly fished waters. Hopefully our guides and clients will then spread the word about these unique fisheries and ranches and how smart planning and good land stewardship can have positive impact on our coldwater fisheries."
"Beartooth Capital Partners is excited to collaborate with Montana Angler Fly Fishing." stated Mike Mansfield. "We look forward to their outstanding guides bringing clients out to experience the outstanding fisheries and western ranch settings that make our properties so special and valuable."
Montana Angler Fly Fishing (http://www.montanaangler.com) offers full service fly fishing packages across Western Montana.