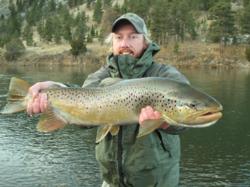 This season we won't have to worry about extended high water or rivers that are too low. 2012 is shaping up to be a Goldilocks year for fly fisherman: just right.
Bozeman, MT (PRWEB) April 03, 2012
Guides at Montana Angler Fly Fishing in Bozeman Montana have been reporting better than average fishing conditions on rivers and streams across Southern Montana . The world class fly fishing in Montana depends on snow in the mountains that feed its legendary rivers during the summer months. Snow pack levels are in great shape and the milder temperatures have allowed the rivers to open up early from ice shelves. Many of the guides in the region have seen insect hatches bringing trout to the surface to feed in great numbers.
"Although our snow pack is right around average for this time of year, the weather has been mild for most of March which seems to have woken up the trout early this spring" stated Montana Angler Fly Fishing outfitter Brian McGeehan. "Last season we had a very wet and cold spring and we saw a delay on some of the common aquatic insect hatches. We have compared our observations this season to notes in our logs from past years and it looks like some of the early fishing over hatches like the baetis is ahead of schedule and we should be on track for some great spring fishing. With a snow pack near average we don't have as much risk for an early run off to spoil spring fishing."
Montana rivers typically begin rising from melting snows in the middle of May but produce good spring fly fishing before the run off starts. Guides at Montana Angler Fly Fishing (http://www.montanaangler.com) have observed strong hatches of midges and baetis mayflies on the waters around Bozeman.