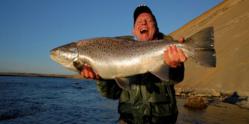 Our passion for the sport has lead myself and several of our other guides to destinations including New Zealand, Argentina, Russia, the Bahamas, Costa Rica, Honduras, Mexico, Alaska, and Mongolia. Their is nothing that we would rather do in the winter mon
Bozeman, Montana (PRWEB) November 01, 2011
Montana Angler Fly Fishing will be offering fly fishing travel services to some of the world's premier lodges in Argentina, Chile and the Bahamas. The Bozeman, MT based company specializes in designing world class Montana fly fishing trips for anglers visiting Southern Montana. Montana Angler currently works with a variety of lodges, hotels and vacation rentals with its domestic operation. The fishing in Montana slows down in the winter months and many guides travel abroad to extend their angling seasons. These international travels have allowed several Montana Angler Fly Fishing guides to build relationships with lodges in both freshwater and saltwater destinations. Montana Angler has partnered with Nervous Waters and the eight lodges that they operate in three different countries. Nervous Waters is based in Argentina and has a strong reputation in the fly fishing lodging industry. Prime dates at their lodges often book at a year in advance and their return client rate of 82% and occupancy rate of 93% is amongst the best in the industry.
"All of our Montana fishing guides are true fly fishing addicts" states outfitter Brian McGeehan. "Our passion for the sport has lead myself and several of our other guides to destinations including New Zealand, Argentina, Russia, the Bahamas, Costa Rica, Honduras, Mexico, Alaska, and Mongolia. Their is nothing that we would rather do in the winter months than head overseas to sample some of the world's best fly fishing. Our international travels have allowed us to discover some really amazing locations and to make some great connections with high caliber fishing operations. The lodges that we have chosen to partner with represent the finest in international destination travel. Our partnership extends beyond just recommending some lodges. We will also be hosting trips to different lodges and one of our head guides will also be running one of the fishing operations at a top lodge in Argentina."
Montana Angler Fly Fishing (http://www.montanaangler.com) is a fly fishing outfitter based in Bozeman, Montana. They specialize in designing customized fly fishing packages to several blue ribbon fisheries in the Big Sky state.
###