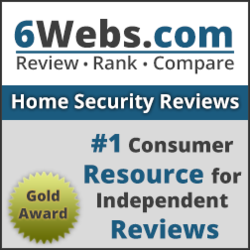 Compare the leading home security system providers on 6Webs.com.
Billings, MT (PRWEB) April 05, 2013
6Webs.com, the home security review site that has helped thousands of consumers, recently released their picks of the top security system companies in the state of Montana. Consumers who live in Montana now have an independent resource to refer to before purchasing a home security system.
When the 6Webs.com team traveled to Montana they discovered that home automation features were just as important as home security. Streaming video from wireless home security cameras and checking in on the home while away was a popular theme among Montana residents.
"The 6Webs.com review team ranked FrontPoint Security as the best home security system company who conducts business in the state of Montana. FrontPoint Security is also the winner of the 6Webs.com's national Gold Award. In a close second place was Protect America who offers their customers free upfront equipment with the purchase of any one of their three monitoring plans available", stated Tim Smythe, senior editor for 6Webs.com.
Both of the top ranked home security systems companies offer their customers equipment from GE Security and interactive monitoring services through Alarm.com. These interactive services enable customers to arm and disarm their home security system from their iPhone, iPad or Android device as well as receive notifications when events occur at the home. Another features that is important to homeowners is the anti-smash technology that Alarm.com provides. If an intruder smashes the home security control panel an alert is generated and the authorities are alerted.
About 6Webs.com
6Webs.com is the leading provider of home security systems reviews. The home security experts at 6Webs.com conduct annual reviews of dozens of home security systems providers but only the top companies are ranked on their website. Focused on providing safety information, 6Webs.com educates consumers on how to lead a safer and more secure lifestyle.