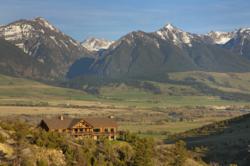 Bullis Creek Ranch is a rare property that encompasses an unobstructed panoramic view of an incredible alpine wilderness
Bozeman, MT (PRWEB) July 07, 2011
On Thursday, July 21 at 10:00 A.M. MDT, 5,485+/- deeded acres, including a fully furnished luxury residence, will be offered by Hall and Hall Auctions through a bid process. Located six miles from Livingston, MT, nine separate tracts, ranging in size from 190 to 1,794 acres are being offered independently or in any combination with a minimum set at $15,600,000 allocated within the individual tracts. Bids must be submitted to Tim Murphy of Hall and Hall by July 21st at 5 P.M. MST. For more information on this Montana land auction contact Tim Murphy at tmurphy(at)hallandhall(dot)com or 406-587-3090. To see the listing, visit http://www.hallhall.com/auction-services.
"Bullis Creek Ranch is a rare property that encompasses an unobstructed panoramic view of an incredible alpine wilderness," said Murphy. "It offers unparalleled privacy within walking distance of a highly desirable mountain community in Livingston, Montana."
Located in the sought-after Paradise Valley, which offers the only year-round entrance to Yellowstone National Park, Bullis Creek Ranch consists of productive irrigated lands on the Yellowstone River Valley floor and transitions through a range of micro-climates before reaching the high alpine forested areas of Wineglass Mountain.
The 9,000 square foot main lodge is set on the hillside of Canyon Mountain, looking down the valley. The handcrafted log home has three fireplaces, Pennsylvania Blue Stone floors, two kitchens, 4.5 baths, a master suite and three bedrooms. Two guest homes, a manager's house, and a mountain cabin along with a complete set of barns and sheds are also included in this auction.
"Bullis Creek Ranch is a massive offering in a valley that rarely sees parcels of land of this scale become available," said Murphy. "The ranch as a whole, given its scale, location, topography and ability to develop, could prove to be an exceptional long-term real estate investment for an owner that wishes to purchase the ranch in its entirety."
Qualifying bids will be invited to a live auction, where potential buyers will be able to bid on their choice of tracts, any combination of tracts, or on the entire property. Each parcel has its own unique characteristics including developed building sites, offering their own degree of privacy and incredible views
Contact Tim Murphy for more information on this Montana land auction at tmurphy(at)hallandhall(dot)com or 406-587-3090.
About Hall and Hall
Hall and Hall was formed in 1946 as an agricultural mortgage company and has since branched out into farm and ranch brokerage, auctions, appraisals, resource management and enhancement, retained search, and consultation on conservation easements and stewardship plans. Hall and Hall has emerged as the largest full service rural real estate firm in the Rocky Mountain West and Great Plains regions, managing more than 800,000 acres of land, and servicing a loan portfolio of more than $400 million. A unique partnership between its offices in Montana, Wyoming, Idaho, Texas, Kansas, and Colorado ensures that the client receives local knowledge and personal service as well as the international perspective needed to make informed acquisition and management decisions.
###