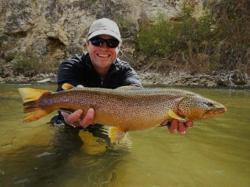 We are definitely seeing some of the best spring fishing in several years
Bozeman, MT (PRWEB) May 10, 2012
Spring hatches are heating up in Montana. Fly fishing guides at Montana Angler Fly Fishing in Bozeman, MT are reporting some of the best spring action in several years. The month of May traditionally produces strong hatches of several species of mayflies and caddis. In recent seasons cold spring temperatures combined with heavy snow packs and high water levels have dampened the action in the spring season. This season snow-pack levels in Montana are close to the 20 year average and seasonable temperatures have helped kick start the emergence of the prolific Mother's Day caddis hatch.
"We are definitely seeing some of the best spring fishing in several years," stated Montana Angler Fly Fishing outfitter Brian McGeehan. "We have near perfect conditions for the Mother's Day Caddis hatch this year. The temperatures have been mild in most of April which has helped the insects to develop on time and we burned off some of our low elevation snow during a warm spell in late April. In the past week the hatch has been coming off every day around 2 p.m. and bringing a lot of trout to the surface. We have caught it just right this season, just warm enough to trigger the hatch but not hot enough to trigger the run-off from melting high elevation snow pack."
"We floated Sunday and Monday on the Yellowstone," stated guide Doug Casey. "The hatch was like a blizzard on Sunday and trout were gorging all across the surface. We had non stop action on dry flies from 2 p.m. until dark. There were just as many bugs on Monday but the fish seemed a little full so we were probably below the head of the hatch. Things should stay really good on the Yellowstone River for a few more days before warmer weather starts melting snow and then we will move to the Madison to chase the hatch there since the dams on the river delay run-off."
Montana Angler Fly Fishing (http://www.montanaangler.com) offers guided fly fishing trips across Southwestern Montana.