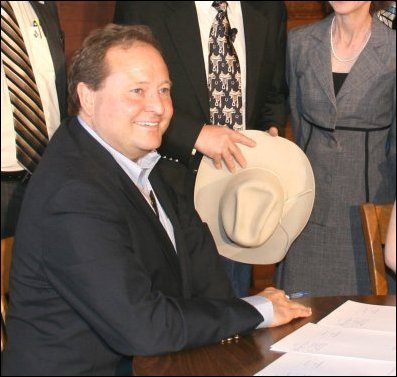 Best of the West Cowboy CD
Chinook, Montana (PRWEB) April 27, 2007
Montana has become the first State in the nation to have an official lullaby. Ken Overcast performed his song Montana Lullaby, the nation's first "Official Lullaby" on the floor of the Montana Senate at the opening of their session Wednesday. It's also perhaps the only official State song containing a yodel.
Written by Overcast and fellow Montanan, Wylie Gustafson, Montana Lullaby became "The Official Lullaby" of the State of Montana" when Governor Brian Schweitzer signed HB594 at a well attended ceremony in his office. The legislation was introduced by Republican Representative Wayne Stahl, and carried in the Montana Senate by Democratic Senator Ken Hansen.
"What an honor," remarked Overcast after receiving a standing ovation for his Senate floor performance. "To have one of my songs elevated to this level has got to be the highest form of compliment."
The original tune was merely a yodel containing no lyrics, and was written by Conrad, Montana native Wylie Gustafson in the 1990s. Overcast heard the haunting melody and collaborated with Gustafson to rework the melody and add the lyrics he had recently written. Montana Lullaby was born. Ken Overcast recorded and released it on Bear Valley Records in 2000 on his album entitled Montana Cowboy, which was awarded the "Best of the West Cowboy CD" by True West Magazine.
The idea to promote Montana Lullaby to official State status came from Disc Jockey Hall of Fame member Lonnie Bell of radio station KGHL, and Yellowstone County Museum director Maurice Deverill, both of Billings, Montana. They were the driving force behind the movement.
"It's just a wonderful tune that typifies Montana," Bell commented. "I loved it when I first heard it, and the phone just kept ringing asking us to play it on the radio again."
Ken Overcast is not just another cowboy who has spent his life on the prairies of Montana. Although he's been in the ranching business all his life, he's also an entertainer with eight CD recordings under his belt. Overcast has been teamed with Nashville producer Russ Ragsdale since his first recording project in 1993.
Overcast is also a published author, with his third book of short stories scheduled for release this fall, and hosts a nationally syndicated radio program, The Cowboy Show with Ken Overcast.
"With all the stress and anxiety in our nation today, I think the soothing strains of a lullaby are just what our country needs," Overcast commented. "Apparently the Montana Legislature thinks so too."
For additional information on Ken Overcast or questions concerning "The Official Lullaby of the State of Montana," please contact Dawn Pomeroy at Bear Valley Records. In appreciation to the State of Montana, Ken Overcast and Bear Valley Records are offering a complimentary download of Montana Lullaby at http://www.realsingingcowboy.com.
About Ken Overcast, writer of Montana Lullaby:
Recipient of the Will Rogers Award from the Academy of Western Artists; Eight CD Recordings; Third book to be released in September 2007; Author of a regularly syndicated column; Host of a nationally syndicated radio program; Lifelong Montana cowboy.
Contact:
Dawn Pomeroy, Director of Public Relations
Bear Valley Records
406-357-3824
http://www.realsingingcowboy.com
###