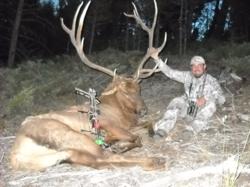 For the elk hunter, trout fisherman, or outdoor enthusiast, this property is truly ideal.
Billings, MT (PRWEB) June 23, 2011
On Thursday, July 28 at 10:00 a.m. MDT, 2,440+- acres located 15 miles from Townsend, MT and 50 miles from Helena, MT, will be offered by Hall and Hall Auctions at public auction. The Montana ranch auction will occur at the Sacajawea Hotel in Three Forks, MT. Greyson Creek Ranch is being offered in four tracts ranging from 560 to 720 acres. It has 2000+ acres in timber and regrowth forest, views of multiple mountain ranges, large wildlife populations, 1.5 miles of trout stream, 3.5 miles that share a boundary with Helena National Forest, and a lease for grazing is available. For more information on this Montana ranch auction contact Scott Shuman, head of Hall and Hall Auctions at 1-800-829-8747 or visit http://www.hallhall.com/auction-services.
"Greyson Creek Ranch is a truly exceptional Montana ranch with great access to water," said Shuman. "In addition to the 1.5 miles of Greyson Creek, the property has four natural mountain spring-fed ponds and beaver ponds, great elk and deer populations, and phenomenal access to National Forest."
The multi-parcel method of sale will allow ranchers, investors, hunters, and outdoor enthusiasts to bid on individual land tracts or combinations of tracts that will best suit their needs. Hall and Hall expects a very diverse group of bidders to attend this Montana ranch auction. Potential buyers will be able to bid on their choice of tracts, any combination of tracts, or on the entire property.
"This land is perfect for the investor seeking to increase his or her portfolio, or a local Montana rancher expanding an operation," said Shuman. "For the elk hunter, trout fisherman, or outdoor enthusiast, this property is truly ideal."
Information dates have been set for potential bidders to meet with Hall and Hall representatives, view the property, and ask questions about the sale procedure. These dates are: Thursday, June 30th from 1-4 p.m. and Thursday, July 14th from 1-4 p.m. Interested parties should meet Hall and Hall representatives on these dates on Tract 3 to view the property and pick up additional information. Contact Scott Shuman for more information about this Montana ranch auction at scott(at)hallandhall(dot)com or 800/829.8747.
About Hall and Hall:
Hall and Hall was formed in 1946 as an agricultural mortgage company, and has since branched out into farm and ranch brokerage, appraisals, resource management and enhancement, retained search, and consultation on conservation easements and stewardship plans. Hall and Hall has emerged as the largest full service rural real estate firm in the Rocky Mountain West and Great Plains regions, managing more than 800,000 acres of land, and servicing a loan portfolio of more than $400 million. A unique partnership between its offices in Montana, Wyoming, Idaho, Texas, Kansas, and Colorado ensures that the client receives local knowledge and personal service as well as the international perspective needed to make informed acquisition and management decisions.
###