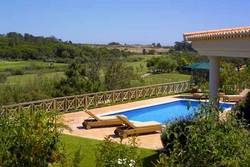 (PRWeb UK) February 8, 2011
The high class Algarve resort Monte da Quinta Club has developed several interesting and interactive group team building activities for businesses that are booking company retreats abroad.
A corporate retreat is often planned with the intent of fostering teamwork and cooperation, and involves co-workers participating in activities. Sometimes these activities are challenging, require teamwork and demand that the co-workers learn to work together. Others are simply fun and cathartic, and bring work teammates closer to each other. Whatever the activity, a successful team-building retreat serves to unite the efforts of all members of the group and focus their energy in a positive and constructive way.
The history of team building dates back to the late 1920s and early 1930s when studies measured the effect of certain exercises on the behaviour of the group. It was found that groups of workers performed better after they had established a sense of group identity. The many fun activities that Monte da Quinta Club provides are sure to help establish that team morale.
The "Top Ten Obelix Menires" program subjects its participants to a set of active games that require the whole team to be committed and inventive. Its name is inspired by the best friend of the title character in the French comic books "The Adventures of Asterix". Obelix is a sculptor who is known for his superhuman strength.
In this teambuilding retreat, everyone must work together and use their imagination. The games are all set within a circuit, and the team's race through the course on foot. The first one to complete all ten is the winner. The games include Matrix, Octopus, Giant Ski, Human Tower, Minefield, Spiders Web, and more. The program takes approximately two to three hours to complete and can take place at the beach or any other open area.
Another great team building activity featured at Monte da Quinta Club is the Dance Workshop. A group of co-workers can laugh and sweat together as they learn dance moves from popular styles such as Hip-Hop, Latino and more. The lesson is taught by a special trainer and takes place on the beach.
Sometimes computer troubles can leave co-workers stressed and annoyed, and Monte da Quinta Club has created a very unique activity that can help frustrated business people release their anger. The Anti-Stress Computer package supplies participants with safety glasses, gloves, a hammer, and a desktop computer. From there, the participants are free to vent their technical rage against the machine. The more pieces the computer is in at the end, the more points. When co-workers smash their frustrations together, they release their stress and are able to move on towards working together happily and effectively.
To spend some quality time with teammates while enjoying the beautiful landscape of the Algarve, corporate retreat participants can take a helicopter flight experience from Monte da Quinta Club. The four passenger helicopter flies above the area of Vilamoura, presenting participants with incredible views.
Monte da Quinta Club also hosts a wine tasting package for corporate retreats, where co-workers can visit local vineyards and sample the delicious wines of the region as well as some traditional snacks.
Team building activities have been proven to improve employee morale, create a more positive and accepting work environment, and increase productivity. Many employers are realizing that they get out of their employees what they put in, and they are investing in corporate retreats abroad such as the ones featured at Monte da Quinta Club. For these forward thinking managers, a retreat is not just a week in the sun, but an important element in the dynamics of the workforce.
Author Bio
For more information about finding accommodation at Monte da Quinta Club, ask Select Resorts today!
###