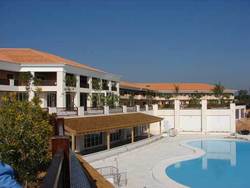 (PRWeb UK) September 16, 2010
There are many reasons why a Monte da Quinta Suite is a much better accommodation option than a traditional hotel especially if holidaymakers are travelling as a family.
Villa accommodation specialists Select Resorts provide their expert opinion and identify four of them to help the most discerning of families in 2011:
1. Suites are often available with multiple bedrooms. Many hotels may give holidaymakers two beds which will sleep four persons, but there's no privacy and if two adults are taking more than two children not all hotels will offer another bed in the same room. This means that two rooms are required, at best with a connecting door, and the adults will spend their holiday sleeping apart. With a suite it's like being at home with the children either sharing a room or having their own, and the adults having some time alone at the end of the day.
2. More living space in which to move around. One of the worst things about a family holiday is living almost on top of one another in one room and a bathroom. This can make bedtime stressful as some people may need to sleep while others want to watch TV. In a Monte da Quinta Suite, you can watch TV in the living room when the children are asleep in their bedroom. If someone wants a little peace and quiet during the day, they can go to their room without stopping the rest of the family having fun. While holidaymakers may not have considered additional space a priority in the past, once they have experienced the difference it can make, they won't want to go back to a traditional hotel room.
3. Hotels usually have a restaurant where holidaymakers can eat, but with children this can be expensive. In a Monte da Quinta Suite guests will have their own fully fitted kitchen which allows them to make meals for the family at a fraction of the cost they would pay in a hotel restaurant. Not only will this save a considerable amount of money, but it will also reduce the amount of stress encountered at mealtimes if the hotel doesn't offer the same kind of food kids like at home! Having a kitchen means that guests have the option to eat out if they want to do so, but can prepare meals and snacks as they like at other times.
4. All the benefits of a hotel without the disadvantages! One of the best things about a hotel is the amount of facilities they can offer. Whether it's a swimming pool, room service, on site spa, or a 24-hour gym, guests know in advance what kind of facilities the hotel will have that can be used. Many good quality suites also offer similar facilities to their guests. Suites such as the Monte da Quinta Suites in the Algarve's Monte da Quinta Resort even offer daily cleaning and a 24-hour reception desk (not to mention Kids' World for keeping the younger family members busy during the day).
When booking a 2011 family holiday, look at what kinds of suites are available – it is surprising how much better they suit a family's needs.
###