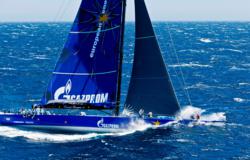 The unstoppable European crew broke the Monaco – Porto Cervo course record by incredible 5 hours 11 minutes 17 seconds
Gorizia, Italy (PRWEB) August 27, 2012
27th August 2012 Fighting against extreme winds or sailing in dead calms, the Esimit Sailing Team in the 2012 season continues to show truly impressive results. After setting new course record at the Giraglia Rolex Cup and taking line honours at the Palermo – Monte Carlo regatta, the 18-member crew, led by legendary Jochen Schümann, now broke the Monaco – Porto Cervo course record by incredible 5 hours 11 minutes and 17 seconds.
Esimit Europa 2 started her big adventure, beating 9-years-old world sailing record, in Monaco on Sunday, 26th August at 4:56:36 AM CEST. Tremendous challenge for yacht's navigator Juan Vila was already the decision on when to start the journey, since he had to find the best possible moment to escape the windless Port Hercule harbour. Vila's weather forecast proved to be perfect for chasing the world sailing record, as Esimit Europa 2 after few hours of sailing started to constantly pick up speed. 30-meter canting keel maxi yacht crossed the finish line on the same day at 3:10:18 PM, finishing the 195 nautical miles long race in just 10 hours 13 minutes and 42 seconds, with average speed of almost 20 knots.
"Setting new world sailing records is always about the state of the art of boat technology, teamwork and appropriate weather conditions, which were on this occasion very well forecasted by our navigator Juan Vila. I am glad that we have found just a perfect combination of those by pushing ourselves really hard, not just to beat the existing record but also to set high standards for the upcoming challengers. During the race, we kept a constant rhythm and finished more than five hours ahead of the old record. It was clearly a superb performance and I am very proud of the crew members," stressed Jochen Schümann, skipper of the Esimit Europa 2 yacht.
The Monaco – Porto Cervo record attempt is approved by the International Sailing Federation, under the World Sailing Speed Record Council Rule 21 (c) in a Powered Sailing System category. The previous record was set on 6th October 2003 by the Nariida sailing yacht. For setting the world sailing record, the Esimit Sailing Team will receive a trophy during the Maxi Yacht Rolex Cup prize giving ceremony on Saturday, 8th September 2012.
The Esimit Europa 2 yacht sails under the flag of the European Union, is registered in Cyprus, a member of Yacht Club de Monaco, competes for the Slovenian Sailing Federation and on board joins sailors from 7 different European countries. It is under the patronage of the President of the European Commission, José Manuel Barroso, and endorsed by Martin Schulz, the President of the European Parliament. Its main sponsor is the global energy company Gazprom, while BMW is the official partner.
Contact:
Gorazd Mauri
+39 366 675 90 92
gorazd.mauri(at)esimit.com
http://www.esimit.com
Esimit Europa Ltd