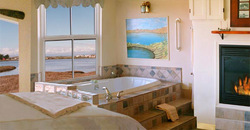 "Our goal is not only provide a clean, quality experience for our guest, but to give them a bit of luxury to enjoy.", Melanie Gideon, innkeeper
Moss Landing, CA (PRWEB) February 23, 2011
The Captain's Inn at Moss Landing, http://www.captainsinn.com, located in Moss Landing, California, on Monterey Bay, has refreshed its linens, just in time for spring.
The bed sets are now an incredible microfiber sheet with the finest touch. The sheets feel like butter and are gentler on the skin than 600-count cotton. The sheets are complimented by newly purchased, 100-percent cotton thermal, waffle blankets.
"These eco-friendly, breathable sheets make for a perfect night's sleep," says Melanie Gideon of Captain's Inn. "Our goal is to not only provide a clean, quality experience for our guests, but to give them a bit of luxury to enjoy."
The Inn has also replaced many of the quilts with new handmade cotton quilts. Some of the quilts are from 100% recycled cotton. Most of the quilts have a nautical theme with sailboat, seashore and other coastal theme appliqué motifs.
To top off the linens, the Captain's Inn has acquired a new set of Boca terry robes. These cozy cotton robes are in the shawl kimono style. "Next best thing to a hug," sighed guest Susan C. A guest favorite is to step out of the luxurious soaking tub or oversized double shower and into one of its robes. All rooms have these cozy robes, spa quality soaps and cookies in the evening.
The used linens were donated to the Salvation Army and the Women's Crisis Center.
For more information, please visit http://www.captainsinn.com.
About Captain's Inn at Moss Landing
Captain's Inn at Moss Landing features 10 guestrooms, each decorated in a unique nautical motif. The new Boathouse features six waterfront bedrooms decorated in seashore themes, including boats crafted into unique bed sets. The Historic House, once the Pacific Coast Steamship Company, was built in 1906 and renovated in 2003. It features four bedrooms, each dressed with local and nautical antiques.
All bedrooms have a private bathroom, king- or queen-size plush-top bed, robes, feather pillows, fireplaces, telephone, TV, and high speed internet connection. Included in the price is a homemade breakfast, served each morning.
The Captain's Inn would be delighted to host press interviews.
Contact:
Melanie Gideon
831-633-5550
res(at)captainsinn(dot)com
http://www.captainsinn.com
###