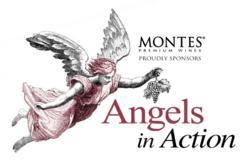 With 'Angels in Action' and our ongoing partnership with the Cystic Fibrosis Foundation, the goal is to now be 'angels' for others—and to reach beyond our own donation capacity to motivate fans of our wines to help support our efforts
LOS ANGELES, CALIFORNIA (PRWEB) September 01, 2012
This September, Viña Montes and the Cystic Fibrosis Foundation invite wine lovers to turn a great wine purchase into a charitable donation during their month-long 'Angels in Action' fundraiser. Viña Montes, the world-renowned Chilean winery helmed by winemaker Aurelio Montes, has partnered with its distributors in nine states across the U.S. to donate 10 percent of wholesale proceeds from every bottle sold from September 1–30.
"We believe Montes has been helped by many guardian angels since we started the winery in 1988," says Aurelio Montes. "With 'Angels in Action' and our ongoing partnership with the Cystic Fibrosis Foundation, the goal is to now be 'angels' for others—and to reach beyond our own donation capacity to motivate fans of our wines to help support our efforts."
"Viña Montes is a long-time partner of the Cystic Fibrosis Foundation, and we are deeply grateful for the company's steadfast commitment to the Foundation's mission," said C. Richard Mattingly, executive vice president and chief operating officer. "The 'Angels in Action' fundraiser will help contribute critical funds to support our search for a cure for cystic fibrosis."
'Angels in Action' is a joint effort with Montes distributors in nine states: California, Maryland, Washington D.C., New Jersey, Pennsylvania, Delaware, Connecticut, Massachusetts and Florida. Viña Montes and the following distributors will each donate 5% of their September wholesale sales, for a total 10% donation:
Titan Wine and Spirits
Connecticut Distributors
Horizon Beverage Group
Reliable Churchill
Washington Wholesale
R & R Marketing
Capital Wine & Spirits
United Distributors
Premier Beverage Group
Aurelio Montes hosted a ticketed tasting event in Los Angeles on June 7th to announce "Angels in Action" and commence its fundraising efforts; all proceeds from the event were donated to CFF. See clips from the event and learn more about "Angels in Action" at http://youtu.be/tIVDkLUeX9E
Media queries and image requests should be directed to Michelle McCue, michelle(at)mccuecommunications(dot)com.
About Viña Montes:
Founded in 1988, Viña Montes is the brainchild of Aurelio Montes and Douglas Murray, both veterans of the wine industry. Along with partners Alfredo Vidaurre and Pedro Grand, they created Viña Montes with the goal of elevating the quality and reputation of Chilean wines - both in Chile and around the world. In the quarter century since, Viña Montes has played a pivotal role in enhancing awareness, affinity, and acclaim for Chilean wines in more than 100 countries worldwide. In essence, Viña Montes has become the benchmark for premium Chilean wines.
About Cystic Fibrosis Foundation:
The Cystic Fibrosis Foundation is the world's leader in the search for a cure for cystic fibrosis. The Foundation funds more cystic fibrosis research than any other organization, and nearly every CF drug available today was made possible because of Foundation support. Based in Bethesda, Md., the Foundation also supports and accredits a national care center network that has been recognized by the National Institutes of Health as a model of care for a chronic disease. The Cystic Fibrosis Foundation is a donor-supported nonprofit organization. For more information, go to http://www.cff.org.