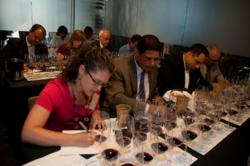 The Montes Grand Cru Challenge offered validation that Chile can play with the big boys.
Los Angeles, CA (PRWEB) July 02, 2012
Inspired by Jay McInerney's recent comment in the Wall Street Journal calling the Apalta vineyard the "Grand Cru" of Chile, Viña Montes and TGIC Importers organized a double-blind tasting in which top sommeliers and wine professionals judged Montes Alpha "M," Montes Folly and Purple Angel by Montes alongside top producers from France, Italy, California and Australia. Dubbed the Viña Montes Grand Cru Challenge, the effort provided an opportunity for wine industry professionals to experience top-level Chilean wines in context among the world's greatest wines. The tasting also served to reinforce Apalta's emergence as a world-class winegrowing region.
Anthony Dias Blue of Tasting Panel magazine moderated the afternoon event, which took place at the Sofitel hotel in Los Angeles on June 7; the judges were:
Christopher Lavin – Advanced Sommelier, CSW
Henri Marquis – Sommelier, Fig and Olive
Lance Reed – Wine Director, BOA Steakhouse
Bonnie Graves – Food and Wine Editor, Moon Tide Luxury Publications
Tony Aspler – Wine Atlas of Canada
Eric Espuny – Wine Director, Langham Huntington Hotel
Dana Farner – Wine Director, Cut Restaurant
Eric Moe – Food and Beverage Director, The California Club
Cameron Russell – Wine Director, Gordon Ramsay at the London
Dore Kraus –Wing Hop Fung Gourmet
Duc Pham – Blossom Restaurant
Shannon Beattie – Sommelier, Cecconi Restaurant
The wines were presented in two flights, with Montes Bordeaux-variety wines ranking second and fourth in the first flight, and Montes Folly (Syrah) edging out Penfolds Grange by a nose in the second flight:
Bordeaux-style wines:
Opus One 2004
Purple Angel by Montes 2007
Chateau Montelena 2004
Tenuta dell'Ornellaia 2004
Ch. Lafite Rothschild 2004
Ch. Haut Brion 2004
Sassacaia 2004
Montes Alpha "M" 2004
Results:
1. Ch. Lafite Rothschild 2004 - Average Score 92.8 (Rank #1)
2. Montes "M" 2004 - Average Score 91.1 (Rank #2)
3. Tenuta dell'Ornellaia 2004 - Average Score 90.8 (Rank #3)
4. Montes Purple Angel 2007 (wild card) - Average Score 90.2 (Rank #4)
Rhone-style wines:
Chapoutier Ermitage "L'Ermite" 2004
Bonaccorsi Syrah Star Lane Vineyard 2005
Montes Folly 2004
Penfolds Grange Bin 95 2004
Results:
1. Montes Folly 2004 - Average Score 91.7 (Rank #1)
2. Penfolds Grange Bin 95 2004 - Average Score 91.5 (Rank #2)
"We were very gratified to see how our wines showed alongside these legendary wines from the greatest wine regions in the world," says Viña Montes co-founder and winemaker, Aurelio Montes. "Since the beginning of Montes Wines, we have set as our goal the production of wine that stands shoulder-to-shoulder with the best wines anywhere. Our belief in the potential of the terroir of Apalta has been validated by the results of this tasting."
"In the many years I've been importing wines from Apalta, I've always maintained that these wines are Grand Cru quality," says TGIC CEO Alex Guarachi. "They are the icons of the Andes and I'm proud to have the partnership with Aurelio Montes and the Montes team. Today was a great day, as the Grand Cru Challenge validated my long held belief that the Montes wines are special and able to stand strong amongst the most coveted wines in the world."
Tony Aspler, the Dean of Canadian wine journalists, commented: "I have been following the Chilean wine industry since my first visit in 1985 and have made several visits since then. The growth both in the quality of the wines and the confidence of the winemakers over those years has been exponential. The Grand Cru challenge that Aurelio Montes and his team mounted in Los Angeles confirms my judgment that the top Chilean wines can stand without a blush against the world's iconic labels."
Sommelier Christopher Lavin put it more succinctly: "The Montes Grand Cru Challenge offered validation that Chile can play with the big boys."
Find more images at http://goo.gl/Q2guF; contact Dan Fredman at dan(at)fredmanmccue.com or Melissa McAvoy at mmcavoy(at)tgicimporters.com for the gallery password, additional quotes, or more information. Photos should be credited to Erica Bertel.
About Viña Montes:
Founded in 1988, Viña Montes is the brainchild of Aurelio Montes and Douglas Murray, both veterans of the wine industry. Along with partners Alfredo Vidaurre and Pedro Grand, and later the Garcés and Barros families, they created Viña Montes with the goal of elevating the quality and reputation of Chilean wines - both in Chile and around the world. In the quarter century since, Viña Montes has played a pivotal role in enhancing awareness, affinity, and acclaim for Chilean wines in more than 100 countries worldwide. In essence, Viña Montes has become the benchmark for premium wine production in Chile.
About TGIC Importers:
TGIC (Thank God It's Chilean) launched 25 years ago as a wine import company with a single Chilean winery in their portfolio and is now one of the largest importers of South American wine. While the company's beginnings were small, their dreams were big and today their portfolio has grown to include the finest wineries and representing the best winemakers, not only from Chile, but Argentina, France, Italy, Australia, New Zealand and California as well. Founder Alex Guarachi hails from Santiago, Chile and made his way to the United States in the 1970s. Upon arrival, he noticed that the wines from his native South American country were nowhere to be found. The entrepreneur vowed to change that and TGIC was born.