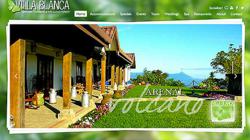 San Ramon, Alajuela (PRWEB) May 10, 2013
As the country's annual tourism expo, Expotur, gets underway in the capital of San Jose, Greentique Hotels of Costa Rica proudly announces the launch of their Villa Blanca web site.
This new design is a responsive site which adapts - on the fly - to whichever device is viewing it including iPhone, iPad, laptops and more. Also integrated in to the new design are a wealth of incredible photos from around the area including Monteverde cloud forest and the famous hotsprings of the mighty Arenal Volcano.
Greentique Hotels of Costa Rica is notorious with the word "sustainable" and to this day, continues to lead the way in this emerging tourism market.
Costa Rica has become infamous with eco-tourism and adventurous vacations - in fact there has been a recent marketing campaign by the country's tourism board ICT which will show in theatres across the United States. The focal point of this campaign is to showcase the many exciting activities one can enjoy when visiting this part of the world.
Villa Blanca is a unique concept in sustainable hospitality that features fresh, organic fruit and vegetables served in the world-class restaurant located onsite called El Sendero and instead of having traditional "hotel rooms", Villa Blanca is comprised exclusively of "casitas" which are small houses. These traditional homes feature a wood burning fireplace in each one and are styled to replicate the heritage Costa Rican homes of the early 1900's. Accommodations also feature vaulted cane ceilings with fans, elegantly handcrafted furniture and a variety of convenience amenities that include private porches and in-room whirlpool tubs in all the suites.
The entire hotel is designed to take you back to a time when the focus was entirely on family and religion. In fact, there is a replica of a 14th century Roman chapel onsite that hosts a number of weddings each year. The chapel was the 50th anniversary-wedding gift from former President Rodrigo Carazo Odio to First Lady Estrella Carazo Zeledon. Its unique hand painted ceramic ceiling depicts the history of the Virgin Mary when first introduced into Latin America by Christian missionaries.
Located only a short distance from the San Jose Costa Rica airport, Villa Blanca offers the perfect destination to start of your Costa Rica vacation with the thrill of experiencing the "real Costa Rica" and all it has to offer.
Upon first laying eyes on Villa Blanca hotel, one can immediately understand why this hotel has become one of the most popular of hotels located within the country's world famous cloud forests and nature reserves.
For more information on Villa Blanca, visit their newly designed web site at http://www.villablanca-costarica.com
###
About Villa Blanca Cloud Forest Hotel, Spa & Nature Reserve
Hotel Villa Blanca is a new world destination for eco-conscious travelers surrounded by the spectacular Los Angeles Private Biological Reserve.
Originally owned by former Costa Rican president Rodrigo Carazo Odio, Villa Blanca has become a cherished Costa Rica destination. The hotel would bring the president and his wife together with another visionary, making possible the extraordinary place that Villa Blanca has become today. A sustainable, green hotel, in the middle of the cloud forest of San Ramón, Costa Rica. That visionary was Jim Damalas.
Jim is an experienced hotelier in Costa Rica with a successful Manuel Antonio hotel, already recognized internationally as a leader in sustainable lodging practices and therefore they decided to pass the torch directly to Jim. Greentique Hotels (formerly Green Hotels of Costa Rica) acquired Villa Blanca in 2004 to transform Villa Blanca into the kind of hotel that the Greentique brand represents - one of natural elegance and sustainability.