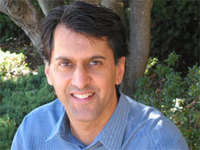 Coming as a first generation immigrant from India to the United States, I have grown up, raised a family, and established several successful businesses in this county. I have seen and experienced the help that the county provides to its residents and businesses and look forward to giving back to the county and Asian American community in this new position
Rockville, MD (PRWEB) October 6, 2008
Raj Khera, CEO of Rockville-based email marketing firm, MailerMailer, was recently appointed as co-chair of the Montgomery County, Maryland Asian American Advisory Group (AAAG) by County Executive Isiah Leggett. Khera will work beside Jayne Park, Project Consultant with the Montgomery County Community Foundation.
Established alongside five other advisory groups, including the African, African American, Caribbean American, Latin American and Middle Eastern American groups, the AAAG will work to advise the county government and will work closely with the Office of Community Partnerships. Together, they will help the government make better decisions considering the needs and opinions of the diverse cultures within Montgomery County.
"Coming as a first generation immigrant from India to the United States, I have grown up, raised a family, and established several successful businesses in this county. I have seen and experienced the help that the county provides to its residents and businesses and look forward to giving back to the county and Asian American community in this new position," Khera says. "The AAAG is just another example of the county reaching out and caring about its constituents. I am proud to be part of this initiative."
The Asian-American community in Montgomery County is a growing population. Leggett comments, "Our Asian American community is an essential part of what makes Montgomery County a great place to live, learn, play and work. I look forward to Raj's contributions that will help to enhance the well-being of the Asian American community and the county as a whole."
About MailerMailer Email Marketing
MailerMailer.com is an award-winning do-it-yourself email list management provider. Equipped with the latest email marketing technology, such as zip code radius targeting, image hosting and fetch HTML from website feature, MailerMailer allows easy creation of professional email newsletters and campaigns. MailerMailer is part of a series of sites run by Khera Communications, which includes discussion group management tool, DiscussThis, and small business resource site, MoreBusiness.com. A free trial of this email newsletter service is available at http://www.mailermailer.com.
###