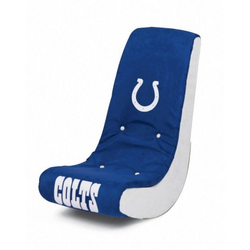 But we've worked hard to find some unique gifts for kids who are just a little too old for toys.
Chicago, Ill. (PRWEB) October 26, 2007
One of the fastest growing groups of shoppers are "tweens" -- kids who are "between" childhood and adolescence, generally in the 8 to 12 age range. Tweens are also often the toughest group to buy meaningful gifts for. Montgomery Ward has kept them in mind, though, and offers many unique gift ideas for this holiday season.
"Tweens are at a tricky age between childhood and adolescence, so finding gifts to appeal to them can be a challenge for some gift givers," says Montgomery Ward Spokesperson Elizabeth Mangone. "But we've worked hard to find some unique gifts for kids who are just a little too old for toys."
Tweens spending time listening to music will love our BoomChair Boom Buddy! The BoomChair Boom Buddy is VIP seating anywhere tweens hang out. Kids can plug their MP3 or CD player right into this clever cushioned backrest and let the music play out of the pair of 3" 2-way speakers built into the BoomChair's arms. With a plush microsuede surface, this super-soft, ergonomic design transforms any spot into the best seat in the house! $89.99.
Give a favorite photo in the unique Color Changing Frame. These cool frames feature a bubble-filled clear acrylic tube that automatically changes colors to accent a favorite 4" x 6" photo. Each frame automatically changes into 5 different colors in the clear acrylic area. Frame is silver metallic. $19.99.
Tweens who love sports will love the wide range of licensed furniture and home accessories in our online team shop. From comforters and throws, to bean bags and floor pillows, Montgomery Ward has licensed items for pro and college teams. Choose from a wide variety of teams in baseball, football, basketball, NASCAR, and more. One of the most popular items for tweens is the Video Rocker, they are curved for comfort and make watching the big game or playing video games even more enjoyable. Montgomery Ward's licensed Video Rockers feature their favorite college, NFL, NBA, MLB, or NASCAR teams. Tailored, button-tufted design features team colors with complementary fabric color on side panels. $129.99 - $149.99.
Fresh bedroom décor brightens tweens and their bedrooms! The clever Jet Set Prints feature images of girls on shopping sprees in New York and café lunches in Paris. These 10" x 10" prints inspire hours of jet setting dreams. Each print is ready to hang, laminated on fiberboard and finished with white bevel edges. "Hello" Jet Set Print I and "Bonjour" Jet Set Print II are each available at $39.99.
The Kito Design Photo Cube Radio is cute and functional. The AM/FM radio is housed in an acrylic cube that displays 4 favorite photos of friends and loved ones. This is great for a desk or nightstand. Choose from 4 fun colors. $29.99.
For these and more great gift ideas for family and friends, visit Wards.com. Wards' robust search functionality provides a variety of ways to shop, by category, product name, price and more.
About DMSI, Montgomery Ward and Wards.com
Creator of America's first catalog, Montgomery Ward continues today to be one of the largest and fastest growing home décor and general merchandise direct retailers, featuring more than 50,000 quality products through catalog and website sales (Wards.com and WardsKids.com). Montgomery Ward, Wards.com, and WardsKids.com are owned and operated by Chicago-based Direct Marketing Services, Inc. (DMSI). DMSI is ranked #144 in Internet Retailer's 2007 Top 500 Retail Web sites. Other DMSI properties include Charles Keath (Charles Keath.com), Popular Club (PopularClub.com), HomeVisions.com and YourKidsDirect.com.
Media contact: Beth Peterson, (847) 931-9375 or beth@petersonmktg.com.
Hi-res images available upon request.
###