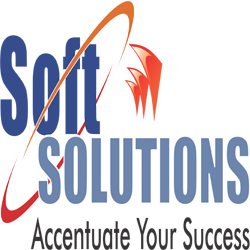 Soft Solutions India provides SEO services to businesses ranging from small to big corporations.
Chandigarh, India (PRWEB) October 11, 2012
Are businesses looking for some monthly SEO plans for expanding the online growth? If the answer is yes, then there is a solution for the business owners! Soft Solutions has now announced its all time highly affordable monthly SEO package that is most essential for accentuating any online business – big or small. Cost is a major determinant while selecting the Search Engine Optimization service provider. Majority of the online businesses hunt for best SEO India services offered at the lowest possible prices. But this monthly package comes at a great price of USD125 per month! Now, no longer will the businesses require to compromise on the quality owing to the cost! Soft Solution is offering the BEST Monthly SEO Plans at such a low price. This confidence is backed by the support of an excellent and well-qualified team of SEO professionals who are abreast with latest technology required to enhance the visibility of the websites. Soft Solutions has announced exciting and affordable SEO packages to assist different online businesses accelerate their profits with an enhanced visibility. The company is result oriented and the SEO packages offered are best suitable for industries –small or large, professionals willing to launch business websites, and for the people targeting any local market. The use of highly targeted and business specific keywords add to the individual customization of the SEO packages.
One of the most significant aspects of SEO (Search engine optimization) is making the website user friendly as well as search engine friendly. More number of users directly leads to more lead conversions and hence an accelerated business growth. Soft Solutions does exactly this! If businesses employ these monthly SEO plans, the websites will be exposed to all the major search engines in a way that the websites get on the top of all search result pages.
Soft Solutions is a SEO company that boasts of a success rate of 95% for helping the websites get indexed in the major search engines. 'Soft Solutions' has been successfully providing SEO services, Monthly SEO Plans, and inspiring web applications that serve the businesses of different tastes and different needs. Soft Solutions speaks of highly satisfied global clientele as it has been assisting all to achieve excellent business goals. The professional team is committed to quality for delivering customized SEO services.
If businesses want to have affordable SEO packages for the website and want to succeed online, opt for SEO plans offered by Soft Solutions.
Visit http://www.softsolutionsindia.net/ or call +91-172-2652555 for more information about the Monthly SEO Plans and other services provided by Soft Solutions.