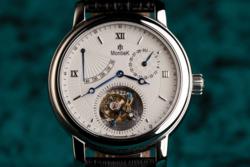 MontieK responds to the eagerness of watch enthusiasts and collectors all over the world to own an accessibly priced Tourbillon watch of European signature
Amsterdam, The Netherlands (PRWEB) April 09, 2013
After a very successful 2012, MontieK gets off to a powerful start of 2013 with the release of four new Tourbillon models. This brings MontieK's collection to ten different Tourbillon watch models. MontieK responds to the eagerness of watch enthusiasts and collectors all over the world to own an accessibly priced Tourbillon watch of European signature. With their refined European looks and corresponding quality, MontieK's Tourbillons offer a price/quality ratio hitherto unseen in the established market of Tourbillon watches.
New models again at accessible prices
Inspired by the many positive reviews about MontieK and the enthusiastic response from its customers and watch aficionados in general, MontieK announced the release of four additional exclusive Tourbillon timepieces: the MPTS-03 & MPTB-03 and MPTS-04 & MPTB-04. These new luxury timepieces are not only provided with a distinguishing unique dial but also with a very classy new watchcase and uniquely styled elegant hands. With the Tourbillon movement as the immediate eye catcher, each of these timepieces combines high functionality and sophisticated technology. In addition the MPTS/B-04 models provide for integrated power reserve and date indicators. Connoisseurs worldwide consider a Tourbillon the "finest of the finest" mechanism. The international sales prices for these new MontieK Tourbillon timepieces reflect the unbeatable price / quality ratio offered by MontieK, and start at just € 1.350,- (only available during the introduction period). To save customers from the heavy cost inherent to the use of traditional distribution channels, these new models are offered exclusively through internet in MontieK's webshop: http://www.MontieK.com.
MontieK Tourbillons trendsetting
Following the successful releases of MontieK's first Tourbillon watches in early 2011 and of the MRS-01 Regulateur Tourbillon in November 2012, overwhelming interest was shown in the MontieK brand from all over the world. Amongst others the renowned International Watch (IW) Magazine reviewed MontieK's MPTS-01 Tourbillon. They qualified this luxury timepiece not only for its accessible price but also as a very accurate and comfortable watch to wear with its alligator leather strap. IW Magazine concluded: "After wearing one for some time, ….. it is clear …..that MontieK excels as a result of Tarée's sourcing efforts. The sum of these carefully sourced parts feel like quite a bit more than the average Chinese made watch and every bit worth Tarée's asking price." (Tarée being MontieK's founder). In one of their recent reports TrendHunter.com, who captures the world's largest, most popular collection of cutting edge ideas, chose MontieK as a number one trend. MontieK's Regulateur Tourbillon was judged to be: "a beautiful compromise for those wanting a stylish and quality watch without the need to shell out large sums of money". Trend Hunter has been extensively quoted in media ranging from MTV, The Economist, and CNN up to the personal blog and Twitter accounts of many celebrities. Already in 2011 also Bloomberg showed special attention to the new trend set by MontieK.
MontieK and its philosophy
The accessible pricing of MontieK's timepieces is made possible by a cost effective synergetic cooperation amongst professional watch-enthusiasts from two Continents and the avoidance of both expensive traditional distribution channels and costly marketing activities, which together are a big part of the sky high Tourbillon prices of the traditional Swiss brands. MontieK's design and marketing team resides in Amsterdam and brings in "connoisseur" driven European design, quality and service standards whilst the watches are crafted and serviced according to MontieK's high standards by a small atelier of experienced and passionate watchmakers in Hong Kong.
In 2010 MontieK's founder Jean Tarée decided to develop his own brand, driven by his passion for Tourbillons and his wish to bring to the market a unique contemporary proposition which meets the exacting demands of realistic value-conscious watch enthusiasts to own a classy high quality Tourbillon. For further information please refer to MontieK's website: http://www.MontieK.com/