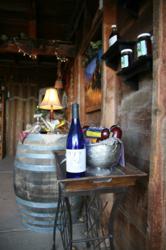 Whether you are looking for a gift for the kitchen connoisseur, a green-thumb gardener, the spa-goer, or the foodie in your family, Montrose merchants have something to suit every taste.
Montrose, Colo. (PRWEB) November 17, 2011
The Montrose Association of Commerce and Tourism has a suggestion this holiday season. Skip the mall and head to the Internet for a wealth of one-of-a-kind gifts produced in the Montrose area that are sure to please even the hardest-to-buy-for recipient on the shopping list.
According to Montrose Association of Commerce and Tourism's Interim Executive Director, Jenni Sopsic, specialty items, like those made in Montrose, make outstanding gifts.
"Many of our local businesses sell handmade, local and often organic items," says Sopsic. "Whether you are looking for a gift for the kitchen connoisseur, a green-thumb gardener, the spa-goer or the foodie in your family, Montrose merchants have something to suit every taste," Sopsic adds. "Many of these businesses are family-owned-and-operated, and most have unique stories that add to the exceptional nature of a gift from Montrose."
Here is just a sampling of gifts available for purchase from Montrose-area businesses, either in person or online.
Dayspring Farm (heritage meats, specialty food products, aromatics)
The owners of Dayspring Farm, located in neighboring Olathe, have been in the livestock business for more than 30 years. The farm utilizes natural and non-certified organic means to produce healthy animals. From grass-fed beef to pigs raised on cracked corn soaked in milk and plenty of room to roam, to free-range chickens and eggs, Dayspring Farm offers a number of farm-raised gift ideas. In addition the farm sells lavender bundles and essential oils. Call 970-323-0204 to purchase.
Hartman Gardens (preserves, syrups, dry mixes, gift packs)
Hartman Gardens is a small, family-owned garden and orchard near Montrose. Here, fresh preserves are made in the canning kitchen the old-fashioned way—with love and price one small batch at a time. Harman Gardens uses reduced-sugar recipes and adds no artificial colorings or preservatives so the natural fruit flavor shines through. All of the jams, jellies, conserves and syrups are made from fruit picked onsite or at neighboring farms. Dry mixes and gift packs are also available. Gifts start at just $1.25. Order online or call 970-249-3120.
MIM-by-Kim (goat milk soap)
MIM (Made in Montrose)-by-Kim specializes in handcrafted goat milk soap. Goat milk contains alpha-hydroxy acids, which help neutralize free radicals and reverse the aging process. The soap bars lather well, have a silky feeling, and leave no residue. They are excellent to use on problem skin such as eczema, psoriasis and dry skin. MIM-by-Kim soaps come in a number of fragrances, as well as unscented. Order online.
Rocking W Cheese
Rocking W Cheese in Olathe is the only artisan cheese producer on Colorado's western slope. The cheese is 'farmstead artisan,' meaning the milk from which the cheese is made comes from cows at the dairy and is processed within 24 hours of milking. The Webbs, a six-generation Colorado family, operates the dairy, farm and cheese factory. They even grow all of the feed for the dairy cows. Rocking W Cheese offers a large selection of classic cheeses, Jack cheese and cheese curds, as well as cheese gift baskets. Visit the website for ordering instructions or call 970-323-5994.
Straw Hat Farms (garlic varieties for growing and plating, garlic powder/granules, baked goods)
Straw Hat Farms grows a wide variety of certified organic vegetables and an acre of certified organic garlic, which produces more than 70,000 bulbs. The farm provides high-quality, gourmet garlic for eating or planting. Online shoppers may purchase hardneck garlic varieties, which are difficult to find in grocery stores but offer a robust flavor, as well as more typical softneck varieties. Additionally, Straw Hat sells organic garlic granules and garlic powder, as well as homemade breads, pies, granola and other baked items. Fido is even taken care of at Straw Hat with two varieties of dog biscuits, made with care by the youngest members of the Straw Hat family. Order online or by calling 970-240-6163.
Wineries (shipping is restricted to certain states, contact each winery for details)
Cottonwood Cellars & The Olathe Winery
Set atop California Mesa, this 52-acre family-owned-and-operated farm and winery offers panoramic views of the San Juan Mountains and the Grand Mesa. The emphasis here is on quality, not quantity. Most wines are $17/bottle, and varietals include cabernet sauvignon, merlot, chardonnay, lemberger, syrah, pinot noir, Gewurztraminer, white pinot and a blend. Call 970-323-6224 to order.
Mountain View Winery
This fourth-generation orchard and vineyard has been producing wine and fresh fruits for more than 45 years. As a small, locally owned and family winery, Mountain View takes great care in the process, from growing, tending, pruning and taking care of the grapes to selecting and engaging in the meticulous process of hand-making the wines. Varietals include more traditional wines such as cabernet sauvignon and chardonnay, as well as unique wines such as cherry, apple raspberry and wild plum. You can even create your own label (or have the winery do it for you) for a very special touch.
About Montrose
Montrose is a uniquely-authentic town that has carved out a place for itself in the landscape and culture of Colorado. Montrose is the gateway to the Black Canyon of the Gunnison, whose North Vista Trail was recently named a "Top 10 Canyon Hike in the U.S. Parks" by National Geographic. Additionally, Montrose was named to Outdoor Life's annual list of the 200 best towns in America for outdoorsmen. Seventy-three percent of the land surrounding Montrose is public land, making it a Mecca for hunting, fishing, camping, hiking, road biking, mountain biking, snowshoeing, cross-country skiing and snowmobiling.
###