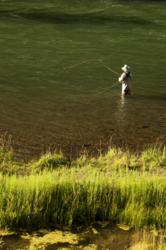 The Colorado countryside around Montrose includes 882,760 acres of BLM-managed lands.
Montrose, Colo. (PRWEB) October 16, 2012
The Colorado countryside around Montrose includes 882,760 acres of Bureau of Land Management (BLM)-managed lands. In the wintertime the wide open spaces of western Colorado combine with sunny days and snow-filled landscapes to add up to tons of fun for vacationers. Here are the top ways to spend winter days on Montrose's off-the-beaten-path public lands, as well as some tips for "treading lightly" on these special places.

This area is located east of Montrose and receives minimal precipitation during the winter, so it is a great place to enjoy the outdoors, year-round. The Dry Creek area boasts hiking, biking, horseback riding and a number of motorized and mechanized routes. There are some areas closed to motorized activities during critical deer and elk wintering periods. Please check with the public lands center for maps and best places to go.
The new Sidewinder Trail in the Gunnison Gorge – just north of Montrose – weaves in and out of beautiful canyons. It is a haven for hikers, bikers, motorcyclists and horseback riders. The trail is 20 miles long, but it can be shortened – or lengthened – by linking to other routes in the gorge. There are 4 trails (Chukar, Bobcat, Ute, and Duncan) hikers and fishers can take to reach the Gunnison River. Many of them are accessible year round.
These public areas around Montrose offer a respite for people who want to escape from the everyday and reconnect with nature. Here are some tips to keep in mind for responsibly enjoying the public lands around Montrose – and the rest of the country.
Know the rules before you go. Pick up a map from the Public Lands Center, located at 2505 S. Townsend Ave., and ask about any regulations or restrictions before you head out.
Stay on the designated trails, roads and areas. Avoid widening the trails by going over (not around) obstacles. This also helps protect sensitive areas, such as meadows and wetlands.
Respect the rights of others. Share the trails, and leave things as you found them. When someone is passing or trying to get uphill, yield the right-of-way to them.
Model good behavior. Leave the area better than you found it by properly disposing of your trash – and even picking up waste you see along the way.
Check in before you head out. The Adobes become impassable when wet although they dry quickly. Check with the Public Lands Center if it has been raining or snowing before heading out on the trails.
About Montrose
Montrose is a uniquely-authentic town that has carved out a place for itself in the landscape and culture of Colorado. Montrose, a host city for the 2012 USA Pro Challenge, is the gateway to the Black Canyon of the Gunnison where the North Vista Trail was recently named a "Top 10 Canyon Hike in the U.S. Parks" by National Geographic. Additionally, Montrose was named to Outdoor Life's annual list of the 200 best towns in America for outdoorsmen. Seventy-three percent of the land surrounding Montrose is public land, making it a Mecca for hunting, fishing, camping, hiking, road biking, four-wheeling and mountain biking in the summer and fall and snowshoeing, cross-country skiing and snowmobiling in the winter.
# # #