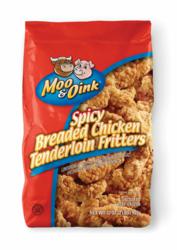 "We added Gobble as a new mascot, because we see poultry as a growing segment," Van Kampen said. "We want to provide even more delicious choices to the traditional Moo & Oink line of meat products."
Chicago, IL (PRWEB) December 12, 2012
Moo and his pal Oink are happy to introduce the newest member of the Moo & Oink family – Gobble, the turkey mascot, who is the Moo & Oink ambassador for poultry products.
Moo & Oink (and Gobble, too) announce four new chicken products:

Breaded Chicken Tenderloin Fritters
Spicy Breaded Chicken Tenderloin Fritters
Breaded Chicken Breast Nugget Fritters
Breaded Chicken Breast Patties
The tenders, nuggets and patties are breaded and made with premium, all-white meat. They can be deep fried or oven-cooked. The new Moo & Oink chicken products are available on the shelves of Chicago area grocery stores.
"In keeping with our belief to uphold quality while maintaining value, we are proud to introduce these delicious chicken products," said David L. Van Kampen, president and COO of Moo & Oink. "We are confident they will become as much a staple in the lives of Moo & Oink fans as all our other products."
"We added Gobble as a new mascot, because we see poultry as a growing segment," Van Kampen said. "We want to provide even more delicious choices to the traditional Moo & Oink line of meat products."
Other existing poultry products include Moo & Oink Turkey Hot Links, Turkey Mild Links, Turkey Hot Patties and Turkey Mild Patties.
The brand name Moo & Oink has strong recognition and a positive reputation. Van Kampen is committed to keeping it that way by providing quality Moo & Oink products for its fans. Moo & Oink, LLC, is a joint venture between Best Chicago Meat Company and Dutch Farms.
Best Chicago Meat's commitment to customers goes well beyond delicious products, impeccably clean facilities and the highest standards in food safety. The company is proud to manufacture in a Chicago neighborhood and operates under a strict policy of energy conservation and waste reduction. At Best Chicago Meat, clean and green are fundamental.
In addition, the company is committed to the communities it serves by supporting activities such as youth sports programs, a high school intern program, community events and local and regional festivals. Best Chicago Meat stands strongly behind its customers by supporting local programs that promote family and neighborhood values.
For more information visit http://www.moo-oink.com