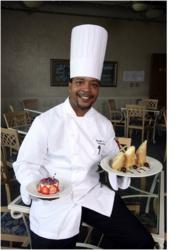 "Chef Evans is a great addition to the Moo & Oink team," said Dave Van Kampen, Chief Herding Officer of Moo & Oink and President and COO of Best Chicago Meat. "He is a rising star in the culinary industry, and we are proud to welcome him."
Chicago, IL (PRWEB) July 17, 2012
Moo & Oink, LLC, the iconic Chicago BBQ brand, named Chicago resident Dwight Evans II as its Corporate Chef and Grill Master Extraordinaire. Chef Evans serves as Moo & Oink's Celebrity Chef, available as the Moo & Oink spokesperson for events and as an enlightened and entertaining television personality.
In addition, he is charged with originating recipes for Moo & Oink products and making the classic products even better.
"Chef Evans is a great addition to the Moo & Oink team," said Dave Van Kampen, Chief Herding Officer of Moo & Oink and President and COO of Best Chicago Meat. "He is a rising star in the culinary industry, and we are proud to welcome him."
Chef Evans attended Ball State University, Muncie, IN, before transferring to Johnson & Wales University, Charleston, S.C. In 2002, he graduated from École Supérieure de Cuisine Française in Paris. While there, he worked at Le Jules Verne, a Michelin two-star restaurant at the top of the Eiffel Tower. After that, he worked for Crystal Cruise Line.
In 2009, Ebony Magazine named Chef Evans one of America's top African-American chefs. Currently, he is on the board of directors of the American Culinary Federation (ACF) Chicago Chefs of Cuisine, Inc., serving in 2012 as 1st vice president. He is in line to assume the presidency of this prestigious organization.
He is a member of the prestigious organizations Les Amis d'Escoffier Society (The Friends of Escoffier Society) and the World Association of Chefs Society (Wacs).
Chef Evans has ambition as well as a big heart. He has participated in No Kid Left Hungry and Junior Cuisine, and he has been a guest chef on PBS. He is currently completing the pilot for his cooking show, "Fine Dining with Chef Evans," and he is writing a book titled, "From the Ghetto to Gourmet…I Refuse to Lose."
Moo & Oink is known for its selection of meat and rap-based commercials in the '80s and '90s, and it was thought to be gone forever after last year's bankruptcy of the Moo & Oink grocery stores. Best Chicago Meat Co., LLC, purchased the Moo & Oink brand in Dec. of 2011 and has brought the most popular items to grocery stores across the Chicagoland and Northwest Indiana area.
Currently Moo & Oink rib tips, burgers, hot links, hot dogs and BBQ sauce are available at more than 250 grocery stores throughout Chicagoland with more growth on the horizon.
Best Chicago Meat LLC manufactures in a Chicago neighborhood, too, and currently produces ground beef, sausage, hot dogs and Italian beef under the brands Glenmark, Jemm Burger and David's Kosher. In addition, Best Chicago Meat stands strongly behind its customers by supporting local programs that promote family and neighborhood values such as youth sports programs, high school intern programs, community events and local and regional festivals.
Best Chicago Meat can be reached at 773-523-8161 or visit: http://www.moo-oink.com.