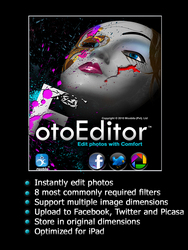 "We are very excited to share our new photo editing app for FREE, that was once only for the iPhone with the iPad."
Santa Clara, CA (PRWEB) April 3, 2010
Moobila, a mobile cloud computing company, announces the release of "Foto Editor", their very first application for the iPad, which is now available as part of the worldwide grand opening of the iPad App Store.
Foto Editor is very similar to Moobila's popular iPhone application, iPicEd, which gives users the ability to edit and upload their photos easily from their iPhone.
Along with already developing iPhone and cloud applications, Moobila will also be releasing several more iPad apps over the next 6-12 months. According to Jauher Zaidi, CEO of Moobila, "It is an honor to be invited to be part of the grand opening of the iPad App Store. iPicEd for the iPhone has enjoyed a fast growing following and we are confident that Foto Editor will soon be one of many of the most popular applications available for the iPad."
The "made for iPad" photo editing tool, Foto Editor, will offer multiple user friendly editing features to help enhance the photos of an iPad user. Once the users are finished editing the photo, they can easily and quickly upload the image straight to Facebook, Twitter, or Picasa.
"We are very excited to share our new photo editing app for free, that was once only for the iPhone with the iPad," Zaidi added.
About Moobila
Moobila is a mobile cloud application company focused on creating intuitive, paperless, cloud applications for personal, business and social applications including Twitter, Facebook, and YouTube. Moobila has extensive expertise in video conferencing, image processing, video streaming, and photo editing. The company excels at Cloud integration into iPhone and handheld device applications, enabling them to develop easy to use solutions for the Web 2.0 mobile cloud world.
iPhone and Cloud Apps developed by Moobila include: iPicEd, iPicolo, iPicTweety, iFlipMeasure, Linkefy, iFacevideo, iSpyTweety, and Gminutes, which is a paperless meeting minutes application.
For more information visit :
http://www.moobila.com
http://www.youtube.com/user/MoobilaD#p/u/6/Wy0u2skzafY
Contact info:
Susan Cain
Cain Communications
408-393-4794 m
503-538-2747 o
###