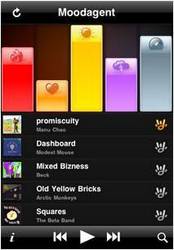 "Consumers still want cool, new technology for their mobile devices, and Moodagent is right on target where others have missed the mark."
San Francisco, (PRWEB) December 16, 2009
Syntonetic Inc., a pioneer in music profiling and recommendation technologies, today announced the launch of Moodagent on the iPhone and iPod Touch running OS 3.0 or later. This amazing mobile application allows users to create music playlists – using tracks from their own music library – by simply adjusting five sliders to indicate mood: sensual, tender, joy, aggressive and tempo.
A playlisting solution like no other
Designed for those who enjoy music, Moodagent is the ideal solution for people who have collected hundreds, if not thousands of tracks. As any music enthusiast knows, it can be extremely time-consuming to comb through an entire music library to create the perfect playlist. This app gives users a unique tool to create instant playlists in less than 5 seconds with just a few touches of the screen – no more drag-and-drop!
Moodagent makes it easy to find the best tracks to cater to a sudden, unexpected mood, to change a mood or to find music that works well together. Users can also 'seed' a song to create an entire playlist based on one tune, save and name favorite playlists or remove songs from playlists.
"Moodagent is unmatched in the industry; there truly is not a comparable iPhone app on the market. This represents a vast opportunity for Syntonetic to transform and modernize the way people listen to music today," said Richard French, chief executive officer at Syntonetic, Inc. "Consumers still want cool, new technology for their mobile devices, and Moodagent is right on target where others have missed the mark."
The brilliance of Moodagent
Syntonetic's team of expert musicologists has cracked the emotional codes found in music to create an intelligent system that deciphers every musical property in a song, including moods and emotions, as well as musical genres and sub-genres, styles, tempo/beat, vocals, instruments and production features.
This unique technology led to the invention of the Moodagent high-def profiling engine, which combines digital signal processing, artificial intelligence and genuine music science.
Moodagent vs. the competition
By drawing on users' existing music, Moodagent provides a significant advantage over streaming music solutions that eat up valuable 'minutes'. Upon download, Moodagent uses an internet connection to sync an entire music collection at less than one second per track. Once completed, users can enjoy playlist-making and listening all offline. Additionally Moodagent plays in the background, so users can check email or use other apps while listening to music.
Moodagent is available for a one-time fee – there is no subscription required. For a limited time, Moodagent is available at no cost in the iTunes app store.
About Syntonetic
Syntonetic delivers powerful solutions for leading mobile device manufacturers, carriers and mobile operators, online music businesses and streaming music services. The company's intelligent applications automatically decode unique properties within songs, including moods and emotions, to create new music services that attract and retain users and increase revenue. More than 200,000 Syntonetic customers, from 187 different countries, have synced over 25 million songs to create instant playlists based on their moods and emotions. Syntonetic offices can be found in Frederiksberg, Denmark, and in San Francisco, Calif., and can be found online at http://www.syntonetic.com.
Important Links:
Follow us on Twitter:
http://twitter.com/syntonetic
Fan us on Facebook:
http://www.facebook.com/pages/Moodagent/200312702164
PitchEngine:
http://pitch.pe/38039
###