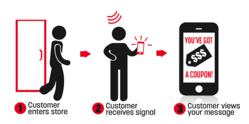 "Presence technology is all about leveraging our existing network to create greater shopper awareness and drive a higher rate of conversion," -- Lorne Abony, Chairman and CEO
Toronto (PRWEB) April 30, 2013
Mood Media introduced today Mood Presence, a mobile marketing technology that utilizes its vast music network to connect retailers and marketers directly to consumers via smart devices.
Presence is the intelligent network that opens up a world of possibilities by establishing a new channel of personalized marketing. The technology sends an inaudible cue through Mood's music player and a retailer's existing sound system. When integrated with a mobile app, the Presence signal is immediately sensed by an iOS or Android device. Once detected, the system establishes a connection, enabling retailers to deliver targeted, relevant content directly to the consumer inside the store.
Mood also announced the release of Explore In-Store, the first Presence product that utilizes the Presence technology. By integrating with any retailer's app, Explore In-Store marks the latest development of Mood's interactive mobile marketing solutions.
Explore In-Store recognizes when customers are on location and immediately creates the feeling of a personal VIP connection to the brand through the store's existing mobile app. The shopping experience is enhanced with targeted content that is immediate and specific to the in-store experience such as exclusive in-store offers and product information. The first of its kind product gives retailers the power to directly combat the practice of showrooming by creating an additional use-case of their own apps and maximizing customer mindshare while in-store.
"Presence technology is all about leveraging our existing network to create greater shopper awareness and drive a higher rate of conversion," said Lorne Abony, Mood Chairman and CEO. "The Explore In-Store product enables retailers to leverage mobile marketing at the most important point of engagement. If a shopper is checking out your competitor's website or texting her friends while in your store, it's more difficult to convert her into a customer, so we want to help our clients get more out of their own apps by delivering relevant, targeted marketing when and where it matters most."
Mood's clients have complete control over the content that is displayed with Explore In-Store. And just like with Mood's digital signage solutions, the content can be updated, targeted and maintained as desired through a simple interface. The back-end of Explore In-Store also provides an interface that produces current and historic data analytics that enable our clients to accelerate their in-store performance.
About Mood Media
Mood Media (TSX:MM / LSE AIM:MM) is the global leader for Experience Design. By integrating media and sensory content, social and mobile applications, and technology-based solutions, we enhance brands and help our clients create powerful connections with their customers. Mood partners with many of the world's leading brands across a wide range of industries, including retail, fashion, financial services, hospitality and food service. Serving more than 570,000 commercial locations in 55 countries throughout North America, Europe, Asia, the Middle East and Australia, Mood reaches more than 150 million people every day.
For more information about Mood Media, please visit http://www.moodmedia.com. Follow us on Twitter https://twitter.com/moodmedia and connect with us on Facebook http://www.facebook.com/moodmedia.