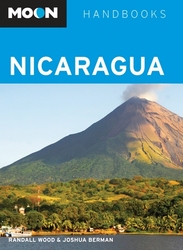 Berkeley, Calif. (Vocus) October 18, 2010
The tribe has spoken, and it looks like Nicaragua is quickly becoming a top travel destination for budget-minded travelers looking for adventure, fun, and relaxation.
While CBS's "Survivor: Nicaragua" sticks to the forests and beaches around San Juan del Sur, adventurous travelers to Nicaragua have a lot more options. Moon Travel Guides asked Joshua Berman, author of Moon's Nicaragua travel guidebook, to offer up some of his best travel tips and suggestions for an adventurous time in this increasingly popular Central American destination.
For a trip to Nicaragua complete with adventure and fun, Berman suggests:
1. Visit a Volcano: There are dozens of volcanoes in Nicaragua, both active and dormant, and most of them are accessible. Travelers should hire a local guide for safety purposes, and to keep them out of too much trouble.
2. Hike the Backcountry: This means traveling north to the mountains and finding a reliable guide who knows their way around this part of the country.
3. Hang Ten: Nicaragua's Pacific Coast has world-class surf and it's still relatively uncrowded, especially compared to other Central American countries. The most well known breaks are around San Juan del Sur, but head to the northwest coast (Leon and Chinandega) to find some truly remote beaches with overhead barrels.
4. Travel the Coffee Trail: More than likely, the Survivor contestants are not going to stay with a Nicaraguan coffee-picking family to practice Spanish and get up at the crack of dawn to pick ripe coffee beans—but adventurous travelers can if they're feeling up to the challenge.
5. Explore Bosawas Reserve: Nicaragua's Bosawas Reserve is the largest protected area of cloud forest in Central America. Few travelers make it that far north, let alone have the skills to enter Bosawas. But those who do make the trip to Bosawas won't regret it.
For additional information on travel to Nicaragua, or to read more about the impact "Survivor" is having on this unique and fascinating country, visit Berman's blog at Moon.com.
About Moon Travel Guides & Moon.com
Moon Travel Guides make independent travel and outdoor exploration fun and accessible. With expert writers delivering a mix of honest insight, first-rate strategic advice, and an essential dose of humor, Moon guidebooks ensure that travelers have an uncommon and entirely satisfying experience. Moon books not only guide, they inspire. Visit Moon on the web at: http://www.moon.com.
# # #