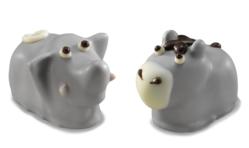 "Our 2012 Election Collection has such a great patriotic feel," says Moonstruck master chocolatier Julian Rose. "The elephant and donkey truffles are definitely lightening up this year's political season."
Portland, OR (PRWEB) October 17, 2012
Portland, Ore.-based Moonstruck Chocolate Co. anticipates the 2012 election season with its whimsical chocolate truffles in the shapes of the country's iconic political mascots, an elephant and a donkey. Both truffle mascots feature dark chocolate ganache hand-formed into an adorable donkey or elephant and enrobed in naturally colored and hand-decorated grey ivory chocolate. A box of four truffles is available for a suggested retail price of $15. The truffles are also available for bulk purchase at $3.75 a piece.
"We love to design whimsical chocolate critters at Moonstruck and are excited for the 2012 election season to showcase our handcrafted donkey and elephant truffles," says Moonstruck master chocolatier Julian Rose. "We are making a bold flavor statement by using extra bittersweet dark chocolate for both of the truffle designs."
Election Collection '12 is available at all five Moonstruck Chocolate Cafés in Portland, Ore., at select retailers and fine grocers nationwide and at http://www.moonstruckchocolate.com.
About Moonstruck Chocolate Co.
Since 1993, Moonstruck Chocolate Co. has been handcrafting artisan chocolates that delight the senses and nourish the imagination. Moonstruck uses only the finest and freshest ingredients, including superior quality cocoa beans originating from some of the most exotic locations in the world. Moonstruck Chocolate's master chocolatier, Julian Rose, was named as one of Dessert Professional's Top Ten Chocolatiers for 2009 and Moonstruck's award-winning creations were featured as the official chocolate of the 77th and 78th Annual Academy Awards®. Moonstruck's chocolate creations are handcrafted, hand-decorated and hand-packaged in Portland, Ore., and are available around the country at select retailers, online at http://www.moonstruckchocolate.com and at the five Moonstruck Chocolate Cafés located in Portland. Follow us on Twitter @MoonstruckChoc and Facebook at Moonstruck Chocolate.