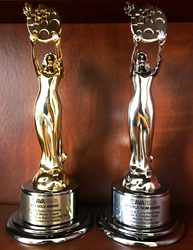 We have always set the bar with innovative ideas and will continue to do so in the future.
Fort Myers, Florida (PRWEB) March 07, 2016
Moore & Scarry Advertising, the nation's largest tier three automotive advertising agency, was recently honored with two international 2016 AVA Digital Awards for outstanding creative. With approximately 2,500 entries from the US and around the world, the AVA Awards honors those "whose talent exceeds a high standard of excellence and whose work serves as a benchmark for the industry".
The award winning agency submitted two original concepts for consideration. The "Monster Family" campaign featured Frankenstein's Monster's family in search of a new car. This campaign earned the agency the coveted Platinum award in the Commercial/Ad Campaign category.
The other campaign, titled "Mr. Blond, We've Been Expecting You" featured a British action movie-type character that faces off with a villain, saving customers from high car prices. This campaign won Gold in the Commercials/Car Dealers category.
Tom Kerr, partner at Moore & Scarry, commented, "We are very proud to receive this award because it is a direct reflection of our team's creativity, hard work, and dedication. It's campaigns like these that set us apart from our competitors. We have always set the bar with innovative ideas and will continue to do so in the future."
About AVA Digital Awards
AVA Digital Awards is an international competition that recognizes excellence by creative professionals responsible for the planning, concept, direction, design and production of digital communication. Work ranges from digital engagement campaigns to audio and video production, website development, social media interaction and mobile marketing.
About Moore & Scarry Advertising
Moore & Scarry Advertising is the nation's third largest automotive advertising agency. Innovation, bright minds and a lot of hard work have made Moore & Scarry Advertising one of the fastest-growing automotive advertising agencies in the nation.
The award-winning agency represents over 250 automobile dealers, including the vast majority of domestic and international manufacturers, and dealerships of all types and sizes, including numerous Automotive News Top 125 Dealer Groups. The agency has offices in Fort Myers, Florida and Denver, Colorado.