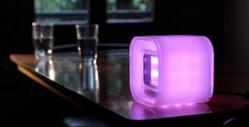 "Open source, collaborative software was just the test. Here comes collaborative, interactive, open hardware: a real-time global dance of color. The non-local has never been more present." Douglas Rushkoff, Code Evangelist, Codecademy.com
(PRWEB) October 24, 2012
A few months back, Mark Pesce invented something deceptively simple: a lamp with a LAMP stack. Light by Moore's Cloud creates delightful, smart illumination with 52 independently-controlled LEDs, each capable of two million colours, all powered by a small-but-capable LINUX computer, connected to the Internet via WiFi.
This means that the internet of things is here for the average consumer and they can have connected intelligent lights at home with Light by Moore's Cloud.
It also means that web and mobile developers can use the open interface to create beautiful and useful applications for consumers to use with their Light by Moore's Cloud.
Light by Moore's Cloud will retail for $99.
Kickstarter Campaign Launched Monday 22 October 2012
Light by Moore's Cloud launched a Kickstarter funding campaign on Monday 22nd October 2012. Our campaign will seek to raise $700,000.
RADICAL BUSINESS MODEL
Moore's Cloud is different to other companies. The Moore's Cloud team is committed to radical transparency, for example, sharing the business financials openly so that backers can see how their money will be spent.
This company is different. The Moore's Cloud team has open sourced its intellectual property – both hardware and software. The Moore's Cloud believe that openness and transparency will grant both resilience and flexibility substantially greater than our size might indicate.
WHY WOULD ANYONE CONNECT A LAMP TO WIFI?
Here are a few reasons:
You wake up. It's dark. But you have to get up, so you reach out to the nightstand and tap the Light by Moore's Cloud. It turns on, and, just a moment later, so does every other Light by Moore's Cloud between the bedroom and the bathroom, illuminating your way. This 'landing strip' is one of the possibilities that opens up with intelligent, connected illumination.
Synchronized control of a Light by Moore's Cloud in conjunction with a broadcast - when the movie gets to a scary part, the lights drop; imagine a play of lights adding drama to a children's book being read off an iPad...
A light that can instantly match (or compliment) the colour of a flower, a dress, or the sky, simply by holding the camera of your smartphone up the object and snapping a picture...
A sentinel that ceaselessly scans a thousand different providers and can warn you if a storm's approaching, or your portfolio has taken a nosedive, or just that a friend wants to connect.
All these applications - and tens of thousands of others - are possible and easy to create because Light by Moore's Cloud is built on standard web technologies, providing a rich REST-based interface that lets any other data source drive the lamp - its colour, pattern, animation, and applications. With the on-board computer, Light by Moore's Cloud can control other computers and devices; it's a peer in the ecosystem of the Internet of Things.
THE MOORE'S CLOUD TEAM
All of this functionality is married to a beautiful, simple and elegant form. To bring this invention to life Moore's Cloud has assembled a world class team:
Mark Pesce – CEO and Founder
Robert Tiller – Industrial & Manufacturing Design
Kean Maizels – Hardware and Firmware Engineering
Breton Slivka – Software and Platform Engineering
Kate Carruthers – Marketing Director
Daniel Lynch – Creative Director
Brent Britton – Advisor, Legal and Strategy
Tony Parisi – Advisor, Technology & Entrepreneurship
MORE INFORMATION
Media inquiries to Kate Carruthers kcarruthers(at)MooresCloud(dot)com
For product shots check out the Light by Moore's Cloud website http://MooresCloud.com
Follow the Moore's Cloud business story at: Crowdfunding the Light http://blog.moorescloud.com/
Follow the Moore's Cloud technical story at: Moore's Cloud Dev Blog http://dev.moorescloud.com/
Follow the Moore's Cloud Kickstarter campaign at http://www.kickstarter.com/profile/cloudlight/
Moore's Cloud
474 Bryant Street
San Francisco, CA 94107
Phone: 760.705.4293